BREAKING! Pfizer Has Stopped Enrollment For Its So Called SARS-CoV-2 Antiviral Drug Paxlovid Trial in Standard-Risk Population
In a surprising move, the American big pharma company that is a major supporter of the Biden administration…Pfizer Inc on Tuesday announced that it would halt enrollment in a clinical trial for its claimed COVID-19 antiviral
COVID-19 drug-Paxlovid
, in standard-risk patients after data analysis showed a non-significant reduction in hospitalizations and deaths.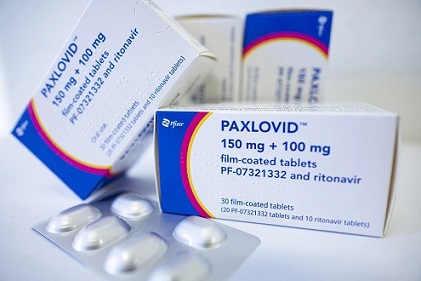 Typically, the standard-risk population usually includes individuals who do not have health conditions that put them at risk of severe disease and who can recover without the drug.
Paxlovid was granted by the Biden administration-controlled U.S. FDA, EUA or emergency use authorization for high-risk groups in which it was claimed to have been effective in reducing hospitalizations and deaths despite skewed data from so-called clinical trials.
However new emerging data showed a 51% relative risk reduction in standard-risk groups, which the company said was not statistically significant.
Accordingly, the low rates of hospitalization and death in this category of individuals is the reason the company gave in a press release for discontinuing the trial.
https://www.pfizer.com/news/press-release/press-release-detail/pfizer-reports-additional-data-paxlovidtm-supporting
The pharm company also claimed that another pre-specified secondary endpoint, however, "resulted in a nominally significant 62% decrease in COVID-19-related medical visits per day across all patients, relative to placebo!
The pharma giants also said it will include the new data in the company's upcoming application to the U.S. Food and Drug Administration seeking full approval for the drug's use in high-risk groups.
Data from a study in Israel earlier this month showed the drug did not to prevent severe illness among younger adults.
https://academic.oup.com/cid/advance-article/doi/10.1093/cid/ciac443/6599020
More than 1.2 million courses of Paxlovid have been administered in the United States, according to data from the Assistant Secretary for Preparedness and Response under the U.S. Department of Health & Human Services.
To date, the Obama controlled Biden administration has ordered and administrated more than 1.2 million overpriced courses of Paxlovid for the United States according to data from the Assistant Secretary for Preparedness and Response under the U.S. Department of Health & Human Services.
The Biden administration has also ordered more stocks of Paxlovid despite doctors and researchers warning of rebound issues and non-efficacy.
Many COVID-19 patients who took Paxlovid to dodge the dangers of a severe infection found themselves in a puzzling situation ie Days after they finished the drug and felt better, their symptoms returned and sometimes so does the double line indicating a positive result on an at-home coronavirus test.
Reinfection or the development of resistance to the drug doesn't appear to be the cause of this "Paxlovid rebound,".
One hypothesis is that a five-day course of Paxlovid successfully lowers the amount of virus in the body, like it's designed to do, but may not remove it all. Meanwhile, the immune system takes a back seat while the antiviral treatment leads the charge, and when the Paxlovid stops, "the virus has a chance to kind of resurrect itself," explains Robert Wachter, M.D., professor and chair of the department of medicine at the University of California, San Francisco (UCSF).
Medical and drug researchers are looking into whether extending the course of the drug…say, to 10 days, instead of five days…might solve the issue. But right now, there's no evidence that doing so will be beneficial, according to JDr ohn Farley, M.D., director of the Office of Infectious Diseases at the U.S. Food and Drug Administration (FDA).
Another study has also showed that drug resistance strains to Paxlovid were developing fast in the United States and also studies showed the mutations arising in the new SARS-CoV-2 BA.2, BA.4 and BA.5 variants and their sub-variants were changing the Mpro proteins of the virus, making existing known antivirals obsolete.
https://www.thailandmedical.news/news/breaking-sars-cov-2-ba-2-variant-spawning-mutations-on-its-mpro-sites-that-reduce-efficacy-of-the-antiviral-paxlovid-many-such-variants-in-america-no
https://www.thailandmedical.news/news/latest-danish-study-shows-that-mutations-e166v-and-l50f-e166v-on-sars-cov-2-variants-weakens-nirmatrelvir-a-component-of-paxlovid-mpro-binding
For latest on the ineffectiveness of the
U.S. FDA approved Paxlovid
, keep on logging to Thailand
Medical News
.