An anesthesiologist or anesthetist is a physician who specializes in the administration of anesthesia before, during or after a surgical procedure (i.e., in the perioperative period).
Put simply, many people regard anesthesiologists as the doctors responsible for putting them to sleep and waking them up when their surgery is over. However, the role of the anesthesiologist goes way beyond this.
The anesthesiologist plays a crucial role in ensuring that a patient survives the surgical procedure and is an essential figure in the perioperative planning and decision making.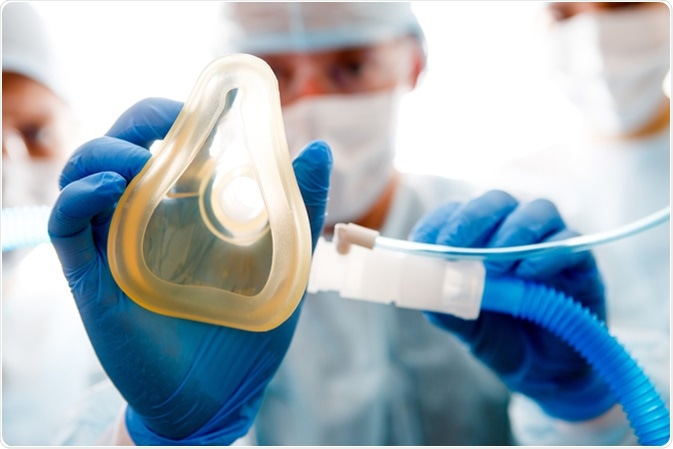 Anesthesiologist. Image Credit: Sergey Mironov / Shutterstock
Before Surgery
Prior to surgery, anesthesiologists identify the surgical and medical necessities of the patient and armed with this information they plan for the necessary optimization of management.
A detailed patient history is necessary to identify any underlying problems that may interfere with the anesthesia, such as a history of allergic reactions to the agents, respiratory conditions or endocrine dysfunction.
The specialist may order specific tests, such as a chest radiograph or complete blood count, to help rule out or identify these problems.
In many jurisdictions, the anesthesiologist is responsible for conducting a thorough examination of organ systems (e.g. cardiovascular, central nervous system and respiratory), an assessment of the oropharynx and airway, and the evaluation of the relevant anatomical sites on the body (e.g. sites for intravenous access).
Based on the anesthesiologist's findings in regard to the patient's medical history, some medications may need to be administered prophylactically, while others may need to be adjusted or stopped completely before the surgery.
Medications that are often prescribed pre-operatively include benzodiazepines for patients who are more anxious than usual. For those at risk of gastroesophageal reflux, sodium citrate or proton pump inhibitors may be given.
Patients with decreased respiratory function, due to morbidities like asthma, may require bronchodilators. Antidepressants, hypoglycemic agents and blood thinning drugs are typically stopped on the day of the surgery to prevent complications.
During Surgery
In an operating room, anesthesiologists are the guardians of life. They monitor the patient's physiological functioning with the help of electronic devices.
Thanks to scientific advancements, anesthesiologists are able to keep an eye on the depth of the anesthesia, oxygenation, ventilation, hemodynamics and temperature of the patient.
These are all vital parameters that must be kept within physiological margins. In addition to this, anesthesiologists have on hand intravenous fluids and resuscitation kits ready for immediate use in the event that they become necessary.
Where applicable, oxygen therapy is administered to ensure the maintenance of saturation above 90%, and mechanical ventilation via intubation is provided for patients that were given muscle relaxants. Blood pressure and heart rate are carefully monitored and managed accordingly if deranged.
Fluids are maintained at pre-calculated requirements and resuscitation with crystalloids and/or colloids is performed when needed. Moreover, blood products, such as red blood cells, fresh frozen plasma and platelets, are always readily available should they become necessary.
After Surgery
Immediately following the completion of the surgery, anesthesiologists are responsible for reversing the state of anesthesia and returning the patient to a conscious state.
Patient comfort following a surgical operation is the end goal. In some instances, critical care in an intensive care unit may be necessary.
The anesthesiologist's key concern after a surgery is the management of pain and addressing other post-operative complications, such as nausea, vomiting, confusion and agitation. Acetaminophen, NSAIDs and opioids are conventionally used to manage and treat post-op pain.
References