Overcoming Formulation Challenges of Biotherapeutics:
The increasing study of vaccines and biotherapeutics gives promise for improvement of treatments against various diseases. While protein engineering has shown a great level of growth, several of these therapies persist in the face of ex vivo uncertainty challenges (both physical and chemical instability) which are a source of dosage form inadequacy, and undesirable immunogenic responses.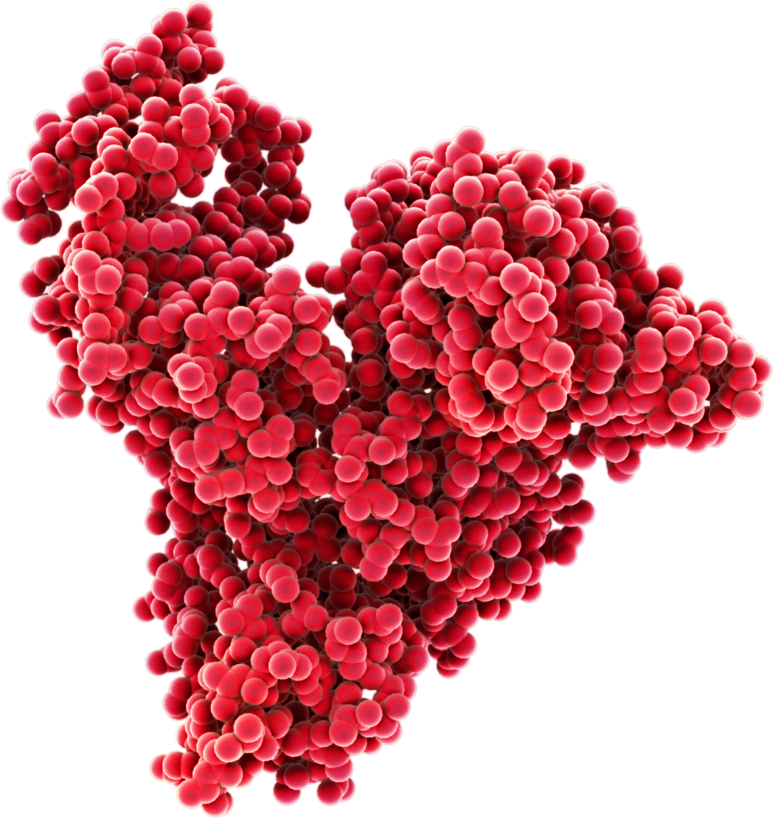 Molecular structure of human serum albumin. Albumin is a simple, highly charged, low immunogenic polypeptide of nearly 70kDa comprising two thirds alpha-helix and 17 disulphide bonds.p Consequently, albumin is highly stable and very soluble; albumin can be concentrated to over 250g", /L and is stable at this high concentration for many years. Driven by its ability to bind a range of "ligands including metTal ions, hormones, bilirubin, haemin and a range of hydrophobic moleculexs including fatt":y acids and drugs, "Aalbumin -is considered the natural drug carrier (Sleep, Albumin and its application in drug delivery, Expert Opinion in Drug Delivery;12(5):793-812)
Recombumin : An Adaptable Stabilizer for Complex Drug and Vaccine Formulations:
Defends against surface adsorption allowing for lasting liquid formulations and an enhanced dosage control
Leads to reformulation, from lyophilized to uncomplicated liquid formulations, without undermining durability
Minimizes undesirable immunogenicity by the reduction of aggregation and oxidation
Possibility to bring valuable yet initially unstable drug candidates to market
Commercially certified in marketed products
Recombumin®
by Albumedix supplies drug formulators with a flexible and competent stabilizer when operating with difficult to formulate drug candidates for example biotherapeutics of a high concentration, drugs that are highly potent and unpredictable therapeutic peptides.
By putting into play several characteristics of Recombumin
®
, drug developers can conquer these fundamental formulation issues.
Protection Against Surface Adsorption:
Remaining attached over time, Recombumin
®
works to protect against drug adsorption due to its own adsorption to hydrophobic and hydrophilic surfaces. The coverage of the surface is generally accomplished in just one layer of Recombumin
®
, where as little as only 1-2 mg of Recombumin
®
is necessary to coat 1 m² of surface.
This point is illustrated below by the elimination of drug reduction because of surface adsor ption of the protein TGF-β3.

Prevention of Aggregation:
Two critical characteristics for the complete reduction of biotherapeutics aggregation are present in Recombumin
®
. Firstly, it binds promiscuously by using ionic and hydrophobic interactions, shielding otherwise uncovered surfaces that could be possible candidates for aggregation.
Secondly, as
Recombumin®
is evenly distributed throughout the solution, the material creates an insulating condition which reduces undesirable protein to protein interactions. The two characteristics have been detailed below in the context of a reduction of aggregation of the peptide insulin, as seen by MFL.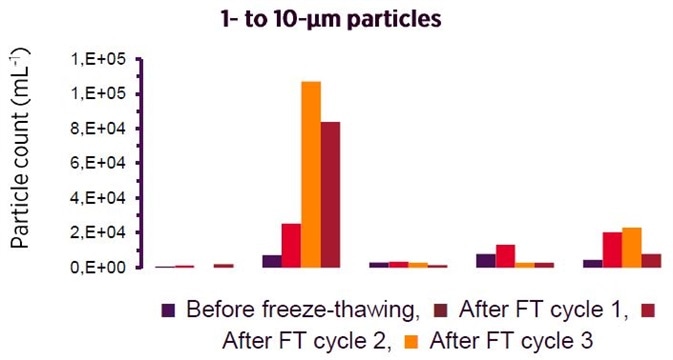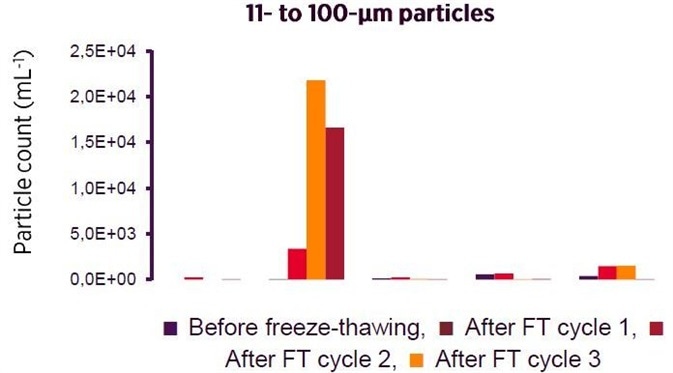 Prevention of Oxidation:
Due to a free thiol group, and several methionines, Recombumin
®
has a great anti-oxidation ability which enables Recombumin
®
to preserve biopharmaceuticals against modification as a result of oxidation by scavenging when in formulation.
Here illustrated by the lowered degree of oxidation as the
Recombumin®
concentration increases seen for the malaria vaccine. The ability of Re candidates MSP2 3D7 and MSP2 FC27. Analyzed by tryptic digest and LC/MS for methionine and cysteine oxidation by H
₂
O
₂
stress.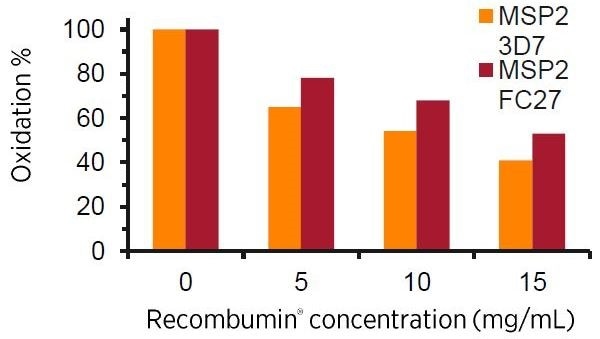 About Albumedix Ltd.
Too many people battle with diseases that keep them from living a full life. Healthcare professionals work hard every day to provide these people with better therapies. Together with partners,
Albumedix
utilize its albumin-based drug enhancing products and technologies to enable the development of more effective treatments.
With more than 30 years of experience, we are proud to be recognized as the world leader in recombinant human albumin products and technologies.
As the highest quality recombinant human albumin products ever developed, Albumedix enables the effective formulation of otherwise hard-to-stabilize drugs, cell therapies, and vaccines.
Our albumin-based technologies offer new ways of optimizing drug dosing and enhancing therapeutic performance by increasing the half-life, payload capacity, and tissue specific delivery of active pharmaceutical agents. This results in simpler treatment regimens, better performance, and, ultimately, improved patient outcomes.
Albumedix is headquartered in Nottingham, UK, with both research and large-scale manufacturing facilities. We are all committed to improving patient quality of life and are just as passionate about albumin and albumin-enabled therapies today as we were when we started 30 years ago.
For more information, visit: https://albumedix.com/