Monkeypox Should Not Be Declared A Global Pandemic As It Is Presenting As A New STI Among The Gay Community Only And Can Be Controlled! UK Now Has 793 Cases!
As the WHO is planning to meet in the next few hours to assess and deliberate about what needs to be done about the current
Monkeypox surge
globally, more emerging data is indicating that the current monkeypox surge is presenting itself more as a sexually transmitted infection or STI and that too only among a certain segment or subgroup of the gay community that seems to be totally irresponsible. The surge can be easily controlled if governments across the world focus on merely this segment.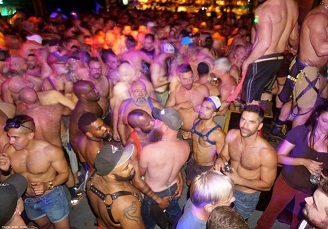 Now before we are accused of stigmatizing a particular group and not being politically correct, people need to look at the emerging data.
For the most updated monkeypox figures, we suggest that individuals access the following twitter account that is doing an excellent job at compiling the daily data of monkeypox infections across the world.
https://twitter.com/HmpxvT
There are other sites but the data are not updated in time and some lag by days.
https://www.monkeypoxmeter.com/
https://map.monkeypox.global.health/country
https://ourworldindata.org/monkeypox
https://www.cdc.gov/poxvirus/monkeypox/response/2022/world-map.html
https://www.who.int/emergencies/disease-outbreak-news/item/2022-DON392
https://bnonews.com/monkeypox/
As of the last hour, the total number of monkeypox cases globally stands at 3,452 cases.
In the United Kingdom, the current number of confirmed cases stands at 793.
https://www.gov.uk/government/publications/monkeypox-outbreak-epidemiological-overview/monkeypox-outbreak-epidemiological-overview-21-june-2022
Among them, available data showed that 758 were males and only 5 were female while 30 were transgenders.
Among the males, 92% identified themselves as being gay and 5 percent as bisexuals and the rest of the males we can assume do not wish to come out yet! (Hilariously, one prominent case in UK involved a 'campy'or rather highly effeminate male university student who insisted he contracted the monkeypox disease from his innocent and confused looking poodle!)
The five females contracted monkeypox through sexual relations with men of which 4 of these male partners were identified as bisexuals and for the only one…..well! (We are not doing a remake of the Spanish Inquisition here!)
Majority of the infections were found to be the result unprotected oral and anal sex and intere stingly, almost 71 percent of the males and the transgenders had other STIs, with many having syphilis, gonorrhea and some even having HIV!
Just the UK data alone indicates a that the disease is spreading predominantly among the gay community with a particular sub-group of irresponsible individuals who are not practicing safe sex procedures despite some of them knowing that they are having other diseases as well. Furthermore, data also that most of these sexual relations occurred in communal sex premises such as gay saunas, gay dungeons and also at public sex parties.
The other key countries with a reported substantial rise of new monkeypox cases in the last 24 hours include:
-Spain 741 cases, an increase of 52 cases in the last 24 hours
-Germany 469 cases, an increase of 57 cases in the last 24 hours
-Portugal 305 cases, an increase of 8 cases in the last 24 hours
-France 277 cases, an increase of 94 cases in the last 24 hours
-Canada 201 cases, an increase of 33 cases in the last 24 hours
-United States 142 cases, an increase of 29 cases in the last 24 hours
The monkeypox disease is now found in 43 countries outside the African continent and Singapore is the first Asian country to report a single case of monkeypox involving a British national in the last few hours.
https://www.channelnewsasia.com/singapore/monkeypox-singapore-imported-case-flight-attendant-fever-rashes-moh-2760996
In about 82 percent of all the global cases, the infected identified themselves as gay men who had contracted the disease via physical sexual contacts.
Despite the monkeypox having possibilities of being spread via airborne transmission, only in 13 reported cases was such a scenario possible and even then, we cannot confirm if it was via airborne transmission or simply exposure to materials or surfaces that were contaminated with the virus!
As many 'closeted' gay men and also men either married or in relationships with women who do not wish to openly come out an disclose their sexual escapades with other men, a minority of those infected have not been truthful about the source of their infections.
Without wanting to stigmatize the gay community, it is very clear that the new monkeypox surge is presenting itself as a STI that is predominantly among a certain subgroup in the gay community that are simply irresponsible and are still indulging in unprotected sex despite headlines in various media outlets warning about the disease when it first broke out among gays at 'after Pride events' in UK and Spain that involved communal sex events! These events were attended by certain British gays who had returned back for Nigeria after having sex with infected Nigerian gay prostitutes.
As such, there is really no need for the WHO to declare the monkeypox surge as a global pandemic.
To discourage risky behaviors that make contribute to the further spread of the disease, governments in various countries should impose temporary measures like closing down all gay saunas, gay sex dungeons, cruising venues, gay pubs and gay massage joints and also encouraging all promiscuous gay 'fraysexuals' to get the necessary monkeypox or smallpox vaccines.
Countries like Thailand, where the gay community is huge and also houses a large number of gay prostitutes should temporally close all the gay venues and also discourage gay tourism for time being. Inbound travelers from the United Kingdom and Germany (Most are cheap sex tourists!) should either be temporarily banned or screened more with quarantines imposed on them.
The Thai government should also keep a look out for planned mass gay parties or events like one that is being planned in Thailand for September by a gay app company and co-organizers from Singapore, Australia, UK and China, as such events can turn out to be super-spreader events!
For more on the
Monkeypox Surge
, keep on logging to Thailand
Medical News
.