Leprosy or Hansen's disease is a chronic infection characterized by granuloma formation, caused by Mycobacterium leprae, which is an obligate intracellular bacillus. The disease attacks chiefly the peripheral nerves and the skin, though systemic involvement is known to occur, as well as damage to many other organs.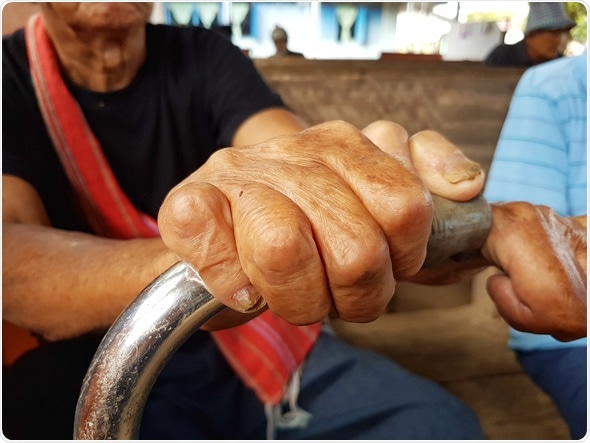 Closeup hands of asian old man suffering from leprosy, Thailand - Image Credit: Tidarat Tiemjai / Shutterstock
Classification
Classification of the type of leprosy is important in determining the right regimen of treatment, as well as predicting complications and providing a useful prognosis.
At present there are two systems of classification in use throughout the world. The Ridley-Jopling classification dates back to 1966, and is based upon the clinical features, histopathology, and the bacteriological index (BI). Its usefulness is compounded by its correlation with host immune activity. It provides room for ascending and descending leprosy reactions which can alter the stage of borderline patients.
It uses the following terms to describe the range of leprosy, from early localized (L) to generalized (LL), or from tuberculoid at one end of the spectrum to lepromatous at the other:
indeterminate (I)
tuberculoid (TT)
borderline tuberculoid (BT)
mid - borderline (BB)
borderline lepromatous (BL)
lepromatous (LL)
Tuberculoid leprosy is characterized by increased cellular immunity with localized infection, whereas lepromatous leprosy (LL) patients tend to have more disseminated infection and higher antibody levels, which are not effective, however, in checking bacillary proliferation.
Diagnosis
The diagnosis of leprosy remains primarily clinical. In addition to skin lesions, the presence of anesthesia or hypoesthesia, thickening of peripheral nerves, and/or the presence of AFB on slit skin smears or biopsy, is noted. Mycobacterial culture has so far proved impossible in vitro. When a biopsy is required, it is taken from a sensory cutaneous nerve without muscular supply, such as the sural nerve or radial cutaneous nerve.
World Health Organization (WHO) Classification
This is the classification in use today for purposes of deciding treatment regimen, and has been widely adopted because of their supply of the WHO multi-drug regimen free of cost to endemic countries. It is simple and suitable for immediate assessment without the need for slit smears. It is based purely upon the number of skin lesions.
Single Lesion Paucibacillary (SLPB)
These patients have a single skin lesion and no other sign.
Paucibacillary (PB) Leprosy
This includes the following types in the Ridley-Jopling classification:
indeterminate (I)
polar tuberculoid (TT)
borderline tuberculoid (BT)
Patients have 2-5 skin lesions, and a skin smear, if available, is negative.
Multibacillary (MB) Leprosy
This term refers to patients with 6 or more skin lesions, and a positive slit skin smear (if obtained). It includes the following subtypes of the Ridley-Jopling classification:
polar lepromatous (LL)
borderline lepromatous (BL)
mid-borderline (BB) defined as having 6 or more skin lesions and a positive skin smear if available.
In the US, a biopsy result is also taken into consideration to define PB and MB patients. They are characterized as negative and positive, indicating less and more advanced disease respectively.
LL has a better prognosis than TT because it produces less destruction of nerves in the skin. Lesions often heal spontaneously.
Response to treatment is based on the bacteriological index (BI), which denotes the density of M. leprae on a slit-skin smear.
References