Warning! Hong Kong Study Shows That Omicron BA.2 Variants And Subvariants Affects Children More Badly Than Previous Variants Or Flu!
Pediatric COVID-19
: Parents, teachers, stupid health authorities and ignorant doctors need to take note that with the ongoing (in some countries like Denmark, United Kingdom, Hong Kong, Vietnam etc) and coming onslaught of COVID-19 surges (especially in Thailand, United States etc) by the BA.2 variants and its emerging subvariants like the BA.2.2, BA.2.3, Eurocron, etc, children would be badly affected as demonstrated by emerging data from a study by researchers from the Department of Pediatrics & Adolescent Medicine at The University of Hong Kong and the Princess Margaret Hospital – Hong Kong.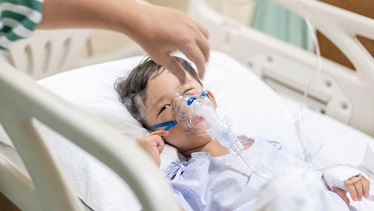 The
Pediatric COVID-19
study showed that many children upon being infected with the BA.2 variant or subvariants, developed disease severity requiring intensive care and supplemental oxygen and a few died from the BA.2 infections.
To date, there has been a rapid surge of SARS-CoV-2 Omicron hospitalizations globally. However, the intrinsic severity of Omicron BA.2 is unknown, which could be determined by studying Hong Kong (HK) children who were both uninfected and unvaccinated before the Omicron wave.
The study team conducted a population-based study which retrieved data from the HK territory-wide CDARS database of hospitalizations in all public hospitals and compared severe outcomes of the Omicron BA.2-dominant fifth wave (5 to 28 February 2022, n=1147), prior SARS-CoV-2 variants (1 January 2020 to 1 November 2021, n=737), and influenza and parainfluenza (1 January 2015 to 31 December 2019, n=32212 and n=16423, respectively) in children 0-11 years old. Monitored outcomes included fatalities, pediatric intensive care unit (PICU) admissions and neurological and respiratory complications.
The study findings found four deaths (0.35%) occurred during the Omicron wave, resulting in a higher in-hospital case fatality rate than other SARS-CoV-2 variants (0%), influenza (0.05%) and parainfluenza (0.04%). (Note that only four deaths were observed for this small group during that particular time frame, as of now…more pediatric deaths and excess pediatric deaths have been recorded in Hong Kong and the figure is increasing daily!)
Also, PICU admission was higher for Omicron than other SARS-CoV-2 variants (OR=18.50, 95% CI 2.42-140.70, p=0.005) and influenza (OR=2.32, 95% CI 1.48-3.64, p<0.001).
Importantly the proportion with neurological complications was 14.91% (171 out of 1,147) for Omicron, which was higher than influenza and parainfluenza (OR=1.75 95% CI 1.48-2.08 and OR=2.06 95% CI 1.74-2.46, p<0.001 for both, respectively). Croup occurred for Omicron more than other SARS-CoV-2 variants (OR=11.47, 95% CI 2.77-47.46 p = 0.001) and influenza (OR= 2.08, 95% CI 1.58-2.74 p<0.001) but not parainfluenza.
The study findings showed that the intrinsic severity of Omicron BA.2 is not mild as evident by the fatality and severe complications of the uninfected and unvaccinated children.
The study findings were published on a preprint server by Lancet.
https://papers.ssrn.com/sol3/papers.cfm?abstract_id=4063036
Most importantly, the study findings showed that BA.2 infections was more serious for children com pared with other variants or compared with parainfluenza or influenza.
Dr Beth Thielen, a pediatric infectious disease specialist at the University of Minnesota in Minneapolis told media, "I think it's a little hard to know what that will look like here, where probably a large fraction of our population has been exposed at some point before either to Delta or BA.1."
However, Dr Thielen notes that the study offers an important look at the raw power of this variant in a vulnerable population. It also highlights the need for more treatments for this age group.
Hong Kong throughout the pandemic, had implemented strict COVID control measures including universal masking, stringent social distancing, contact tracing and business and school closures. As a result, this city had low case levels and relatively little exposure to the SARS-CoV-2 virus through most of the pandemic.
However, when the more transmissible BA.2 variants and sub-variants like BA.2.2 emerged, Hong Kong was plunged into a catastrophic chaos with hospitals overflowing and the public healthcare structure under enormous strain. Main China had to send in reinforcements of doctors and nurses, medical equipment, oxygen supplies and drugs.
Currently, Hong Kong is still witnessing an alarming rise in daily cases and deaths, particularly in its elderly population, many of whom had been reluctant to be vaccinated.
Children aren't being spared from BA.2 either, and the new study compares the outcomes for children hospitalized with this variant to outcomes for kids hospitalized with previous variants (between January 2020 and November 2021), parainfluenza or the flu.
The data on children hospitalized with parainfluenza and influenza came from medical records between January 2015 and December 2018.
The study findings showed that in February 2022 alone, when cases started to rise due to BA.2 variant and BA.2.2 subvariant, 1,147 children were hospitalized, and four died.
Sadly, the children who died were 11 months, 3 years, 4 years and 9 years old. Three had previously been in good health, and the 9-year-old had muscular dystrophy. Two children died from encephalitis, or swelling in their brains.
These were the first children to die of COVID-19 in Hong Kong during the pandemic.
In March, pediatric COVID-19 infections, hospitalizations and deaths are still rising.
Interestingly when the study team compared fatality rates, they found that children hospitalized with BA.2 had seven times higher odds of dying compared with those hospitalized with the flu, and more than six times higher odds of dying from BA.2 than from parainfluenza.
It was found that the case fatality rates were 0.35% for BA.2, 0.05% for influenza and 0.04% for parainfluenza, which causes croup.
Furthermore, the odds that children would need to be admitted to the pediatric ICU were 18 times higher for BA.2 compared with previous COVID-19 variants, more than twice as high as for the flu and roughly on par with the risks for children hospitalized with parainfluenza.
It should be noted that no cases of febrile seizures were recorded in Hong Kong during surges with the previous SARS-CoV-2 variants.
However, shockingly children with Omicron's BA.2 subvariant had three times the odds of having a seizure caused by a fever compared with those with flu and more than four times greater odds compared to those with parainfluenza.
Alarmingly, children with BA.2 also had higher risks of brain swelling than children with parainfluenza but about the same as those with the flu.
Also, it was found that in terms of respiratory complications, 5% of hospitalized kids infected with BA.2 developed croup, compared with 0.27% of children with other COVID-19-causing variants, making the odds of having group about 11 times higher for BA.2 than for previous variants.
Children with BA.2 or BA.2 subvariants were about twice as likely to have croup than children hospitalized with the flu.
The research team study told
Thailand Medical
News, "The intrinsic severity of Omicron BA.2 is not mild as evident by the fatality and severe complications of the uninfected and unvaccinated children."
The study findings indicate that children can be a vulnerable group and that parents, teachers, health officials and doctors should focus of measures that prevent them from being infected during the BA.2 surges.
For more on
Pediatric COVID-19
, keep on logging to Thailand Medical News.