US COVID-19 News: Record 65,551 New COVID-19 Cases In Last 24 Hours! America's Death Rates To Rise Exponentially. COVID-19 Might Be A Blessing After All!
US COVID-19 News
: America posted 65,551 new COVID-19 cases in the last 24 hours, a record for a 24-hour period, according to a tally by Johns Hopkins University.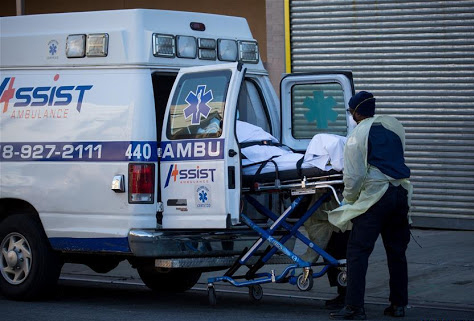 USA is the hardest-hit country in the world by the pandemic, has a total caseload of more than 3.22 million, with 135,018 deaths. (As of 10
th
July, 3am California,m Source Worldometer)
It was also reported that more than 1,000 individuals died from the disease in the last 24 hours.
It is estimated that about 23,617 patients are in critical condition across the country while about 1.42 million people are deemed to have 'recovered.'
America has seen a spike in infections in recent weeks, particularly in the south and west, and health experts worry the death rate may soon follow the same trajectory.
To make matters worse, there seem to be more younger patients progressing into severe conditions of late and also dying from the disease, defying initial fallacies that only the older and those with chronic health conditions would be more likely to suffer severe aspects of the disease.
Top US infectious diseases expert Dr Anthony Fauci said Thursday "We are in a very difficult, challenging period right now. As the country began reopening, many states jumped over the benchmarks,'' referring to indicators of a slowing infection rate required for states to begin phasing out of lockdowns.
He added, "I would think we need to get the states pausing in their opening process. I do not think we need to go back to an extreme of shutting down."
President Donald Trump, who has openly said he disagrees with Fauci, has downplayed the spike in cases.
He tweeted on Thursday, "For the 1/100th time, the reason we show so many cases, compared to other countries that haven't done nearly as well as we have, is that our TESTING is much bigger and better. We have tested 40,000,000 people. If we did 20,000,000 instead, cases would be half, etc."
He did not however justify as to why 135,018 Americans died from the disease so far and many more in the next few months.
As more Americans are expected to die in the next few months with an even frightening scenario expected when the next wave actually comes sometime at the need of the year, another worrying trend is emerging, that is more of the so called recovered patients, even those who had only experienced mild or no symptoms are now experiencing a variety of medical conditions including chronic fatigue and a variety of neurological symptoms among the growing list of medical conditions.
As these numbers start growing, America's healthcare industry is expected to eventually collapse sooner or later.
While it is sad to see the smart and health wise Americans get affected by the COVID-19 crisis, it is also might be a blessing in disguise as the disease might eradicate the world of stupid and ignorant people who refuse to arm themselves with knowledge about medical and health issues and to take necessary precautions and the right actions.
This might be coming as a surprise to many since we are a medical news site but after going through things the last few months, we have changed our outlook of things. We initially started the site and also various projects at the start of the COVID-19 such as helping to procur medical supplies for various lesser deprived communities around the world and also to help propel research in various aspects of the disease etc but as we were struggling, we found very little support from various sectors and countries. Forget about Thailand as people here are intellectually challenged and only focusing on trash content online such as whores and scammers masquerading as online market influencers, gossip news and stupid local celebrities. In America, we found that people could spend on online porn but not medical content or to help various medical initiatives.
To make matter worse, small struggling entities like ours are faced with discrimination and unfair practices by social media platforms owned by Americans, such as facebook, twitter and linkedin. These platforms will lower your news feed if you do not advertise with them! And if you get too much shares like on facebook, they will disrupt your services.
We get bullied by big American owned payment gateways like Paypal that is giving us a hell of a time. Then we also get bullied by various American corporates that use some of our articles to promote their wares but do not even contribute even a small sum to our site. We have American owned google news that is run by some garbage Indians and Singaporeans in Asia who is bias against Thai owned media like ours.
We are but a small self-funded company and we do not accept ads so that our content is not influenced.
With all these that we face, we think that maybe the COVID-19 crisis might be good after all. Perhaps when the situation escalates and the second wave comes, more people especially those working for these American companies, their loved ones and the owners will hopefully perish in the crisis along with the stupid and ignorant individuals who refuse to change their health habits and also to take necessary precautions.
We will be closing down this site pretty soon as supplying medical news and knowledge seems to be a waste of time. Running a porn site or anything ungodly might be more lucrative it seems.
For more
US Medical News
, keep on logging to Thailand Medical News.