International Study Shows High Doses Of Vitamin B9 (Folic Acid) Increases COVID-19 Risk And Also COVID-19 Mortality Risk!
A new study by researchers from the University of Otago-New Zealand, University of California, Davis-USA, The University of Alabama at Birmingham-USA, University of Queensland-Australia and the Birmingham VA Medical Center- has found high doses of Vitamin B9 or folic acid were associated with increased COVID-19 risk.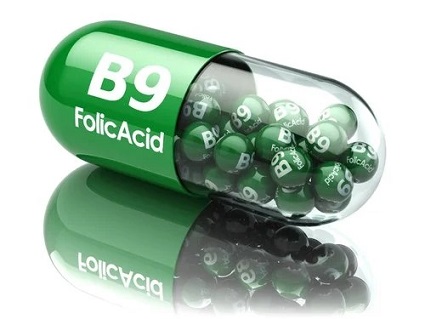 According to the study team, folic acid, a B vitamin that's used widely to fortify foods and lower the risk of birth defects, may carry a hidden risk for those who take huge quantities of it.
The study findings showed that individuals were more likely to get COVID-19 and to die from COVID-19 if they had been taking high doses of vitamin B9.
The research objective was initially to determine if methotrexate or folic acid prescription was associated with differential risk for COVID-19 diagnosis or mortality.
The study team utilized data from the UK Biobank (UKBB) cohort. A total of 38,0380 participants with general practice prescription data for 2019–2021 were identified. Updated medical information was retrieved on 13 December 2021.
The outcomes of COVID-19 diagnosis and COVID-19-related mortality were analyzed by multivariable logistic regression. Exposures evaluated were prescription of folic acid and/or methotrexate.
Criteria for COVID-19 diagnosis were (1) a positive SARS-CoV-2 test or (2) ICD-10 code for confirmed COVID-19 (U07.1) or probable COVID-19 (U07.2) in hospital records, or death records.
Utilizing these criteria, 26 003 individuals were identified with COVID-19 of whom 820 were known to have died from COVID-19.
Logistic regression statistical models were adjusted for age sex, ethnicity, Townsend deprivation index, body mass index, smoking status, presence of rheumatoid arthritis, sickle cell disease, use of anticonvulsants, statins and iron supplements.
The study finding showed that compared with individuals prescribed neither folic acid nor methotrexate, individuals prescribed folic acid supplementation had increased risk of diagnosis of COVID-19 (OR 1.51 (1.42–1.61)).
However, the prescription of methotrexate with or without folic acid was not associated with COVID-19 diagnosis (p≥0.18).
Alarmingly, individuals prescribed folic acid supplementation had positive association with death after a diagnosis of COVID-19 (OR 2.64 (2.15–3.24)) in a fully adjusted model.
It was also found that the prescription of methotrexate in combination with folic acid was not associated with an increased risk for COVID-19-related death (1.07 (0.57–1.98)).
The study findings concluded that there was an association of increased risk for COVID-19 diagnosis and COVID-19-related death in individuals prescribed folic acid supplementation.
The study results also suggest that methotrexate might attenuate these associations.
The study findings were published in the peer reviewed journal: BMJ Open
https://bmjopen.bmj.com/content/12/8/e062945
Study co-author, Dr Ralph Green, an expert on B vitamins from the University of California-Davis told Thailand
uot;>

Medical News
, "We examined whether COVID-19 diagnosis and death were related to the large doses of folic acid ie five times the safe upper limit that is typically prescribed to patients for a variety of medically approved indications,. Shockingly, we found that the risk of becoming infected and dying from COVID-19 was significantly greater in the group treated with folic acid."
It has been known that in general, low levels of folic acid are linked to an increased risk of birth defects, heart disease and stroke.
Often, Vitamin B9 or folic acid is prescribed for a number of conditions, including sickle cell disease, high-risk pregnancies and also to individuals taking anti-seizure medications.
Certain patients taking methotrexate, a drug used to treat some cancers and autoimmune diseases, also take folic acid to help reduce side effects from the folate-inhibiting drug.
Importantly, the study found that methotrexate countered any increased COVID risk for those patients.
The study team said they were first motivated to investigate the link between folic acid supplementation and COVID by studies published last year in Nature Communications.
https://www.nature.com/articles/s41467-021-21903-z
The previous study suggested that SARS-CoV-2 uses a host's folate to replicate. That means the virus may be sensitive to both folate and folate inhibitors like methotrexate.
The study team examined prescription data for more than 380,000 individuals in the UK Biobank.
The study team wanted to determine whether folic acid was linked to an increased risk of COVID and methotrexate to a lower one.
Shockingly, the study findings revealed that those with folic acid prescriptions were 1.5 times more likely to get COVID and 2.6 times more likely to die from it, compared to a control group.
However, individuals prescribed methotrexate had a similar rate of COVID diagnoses as the rest of the study population.
Study co-author Dr Angelo Gaffo, an associate professor of medicine at the University of Alabama at Birmingham added, "Our study findings could have implications for patients who take supplementary folate to prevent complications of other pharmacological therapies. Although taking folate in these cases is clearly indicated, clinicians should be cautious about excessive folate intake."
However due to the makeup of the study population, the study team said the study findings only apply to individuals 45 or older who are predominately of white European ancestry.
Dr Gaffo added that the new study results need to be replicated, and the study team noted that more study is needed to fully understand how folic acid intake and folate levels affect susceptibility to COVID infection. Levels of folate in participants' blood were not examined in this study.
Dr Green added, "The defined safe upper limit of folic acid is 1 milligram. Until we have more information, it would be prudent to avoid extremely high doses of folic acid unless it is medically indicated."
He also added, "high folic acid would be of greater concern in unvaccinated individuals."
For the latest
COVID-19 Research
, keep on logging to Thailand
Medical News
.