BREAKING! Prolonged Detection Of Monkeypox Virus In Saliva, Blood, Urine, Semen, Feces, Nasal and Anal Swabs Of Those Infected!
Monkeypox Updates
: The monkeypox outbreak is growing not as exponentially as being made by scaremongers and to date, almost 97 percent of all those infected are either men who are gay or who are bisexual wit the rest comprising of men who are refusing to disclose their sexual identity and most probably closeted and also a few women and children who most probably contracted the disease in household settings with 'closeted' gays or bisexuals.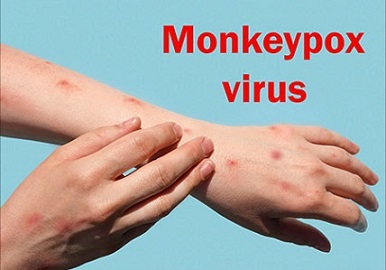 Monkeypox Updates
in the last few hours show that the total number of global confirmed infections of monkeypox has reached 14,628 with Spain leading with 3299 cases, followed by the United Kingdom with 2,137 cases, USA with 2,108 cases, Germany 2,033 cases, France 912 cases, Netherlands 656 cases and Canada 596 cases.
The disease has now been detected in more than 69 countries with gay men functioning as vectors.
The monkeypox outbreak can be easily controlled simply by educating the gay community, closing down gay saunas, gay dungeons and gay cruising joints and gay discos promoting chemsex parties and group sex. Access to proper testing, mandatory quarantines and mandatory vaccinations for high risk gays along with stringent screenings of all single male travelers from the high-risk countries or preferably a travel ban would help control the spread of the disease.
Despite some claiming that it is not a sexually transmitted disease, to date…almost 97 percent of cases were found to have been contracted that way with the exception of a few kids and women who most probably contracted it via contaminated surfaces or articles in households with 'closeted' gays!
In the early days of the outbreak, some entities and ignorant individuals denied that the virus was detectable in the semen of those infected despite certain early studies already showing so.
A new study by researchers from the Hospital Clínic-Universitat de Barcelona-Spain and the Instituto de Salud Carlos III, Madrid, Spain has uncovered prolonged detection of the Monkeypox (MPX) virus in the saliva, blood, urine, semen, feces, nasal and anal swabs of those infected!
The study finding also raises questions about the effectiveness of smallpox vaccinations to prevent monkeypox infections as four participants who contracted monkeypox in the study had been vaccinated with the smallpox vaccines.
Furthermore, the study findings also showed that monkeypox infections with the new current strain could cause proctitis and several other unusual clinical manifestations.
The study findings were published in the peer reviewed journal: Eurosurveillance.
https://www.eurosurveillance.org/content/10.2807/1560-7917.ES.2022.27.28.2200503
Already the analysis of seven cases diagnosed in the United Kingdom between 2018 and 2021 revealed prolonged detection of MPX virus DNA in nasopharyngeal swabs, urine and blood samples.
https://pubmed.ncbi.nlm.nih.gov/35623380/
&nbsp ;
Furthermore, a report of four cases in Italy from the current outbreak detected MPX DNA in semen, feces and saliva.
https://pubmed.ncbi.nlm.nih.gov/35656836/
The study team aimed to characterize viral shedding to better understand the possible role of different bodily fluids in disease transmission and investigated the presence of MPX virus DNA in saliva, rectal swab, nasopharyngeal swab, semen, urine and fecal samples, from 12 MPX patients in Barcelona, Spain.
The current upsurge of MPX cases warrants a further understanding of MPXV shedding.
The research was conducted between May and June 2022, for which 147 samples comprising saliva, rectal swabs, semen, nasopharyngeal swabs, urine, and feces were obtained from 12 MPXV-positive patients at 23 different time points by real-time polymerase chain reaction (PCR).
Sanger sequencing was performed for the first three diagnosed MPX cases. Epidemiological and clinical data were retrieved from the patients' medical records and were reviewed retrospectively.
Also, samples were obtained from two lesions for MPX diagnosis, and additionally, samples were screened for other sexually transmitted infections (STIs) by PCR: Mycoplasma genitalium, Chlamydia trachomatis, Neisseria gonorrhoeae and in the rectum, urine, and pharynx, respectively. In addition, serological screening was performed for Lymphogranuloma venereum, Treponema pallidum, and herpes virus in anal genital ulcers and human immunodeficiency virus (HIV), hepatitis B, and C viruses, and syphilis.
All study participants were young men who had sex with men (MSM), their median age was 38.5 years, most of them (nine patients) had prior STI history, and concurrent STIs were reported among three participants. All participants had active sex and had ≤10 sexual partners in the previous month, seven of which were taking HIV pre-exposure prophylaxis (PEP) medications.
In the study it was found that five participants attended sex-on-premises or chemsex sessions, and three participants traveled within Spain, although none of them visited Madrid or Canary Islands, where MPXV transmission was initially detected in the country.
Also, four participants had sex with confirmed cases of MPX, and four patients had received smallpox vaccination.
The MPXV DNA was detected in saliva and skin lesion swabs of all (12/12) cases, with high viral loads [quantification cycle (Cq) values ranging between 16 and 21] in the skin pustules.
In addition, MPXV DNA was detected in samples obtained between day 4 and day 16 following the onset of MPX symptoms.
Importantly, other body samples were frequently MPXV-positive: nasopharyngeal swabs (10 cases), rectal swabs (11 cases), semen (seven cases), feces (eight cases), and urine (nine cases). Intermittent MPXV shedding (PCR-negative samples that became PCR-positive) was observed in the saliva and urine samples of two participants.
The research findings are in accordance with previous studies reporting MPXV DNA detection in semen, blood, nasopharyngeal swabs, saliva, and feces. Of interest, saliva was previously tested only once in one patient. In the present study, MPXV DNA was detected in salivary samples of all patients obtained four to 16 days post symptom onset.
The study findings highlighted the routes of MPX transmission in Barcelona and enhanced knowledge of MPXV shedding.
The research data could provide valuable information for MPX diagnostics and developing interventions for improved public health.
Further research is also warranted to determine MPXV's capability to cause proctitis and several other unusual clinical manifestations.
Future studies with larger sample sizes must further assess the infectivity of body fluids and their potential role in MPX transmission by close physical contact during sex. Further, data on smallpox vaccination history from large case series coupled with serological tests should be analyzed to improve knowledge of the beneficial role of smallpox vaccinations in protecting against MPXV infections. Furthermore, the frequency of asymptomatic and secondary cases must be assessed, and the impact of MPX on behavioral and social factors affecting MPX transmission must be evaluated.
For the latest on
Monkeypox Updates
, keep on logging to Thailand
Medical News
.