Dental implants have occasionally been used to replace missing teeth throughout history. However, they became more accepted in the 1960s. Since then, their use has become considerably more widespread, and is now a common dental procedure for teeth replacement. They are primarily used to support dental prosthetics such as crowns for single tooth replacement, or bridges for the replacement of a span of teeth or dentures.
Modern dental implants are manufactured from titanium because the metal is compatible with the tissues and able to fuse with the jawbone in the healing process, increasing the stability of the implant. This biological fusion process in known as osseointegration and can support significant physical stress for extended periods of time. This is important because of the decades that the dental implant will likely be in place.
As a result of extensive research in this area, dental implants are now considered to be a safe and effective way to replace the appearance and function of missing teeth.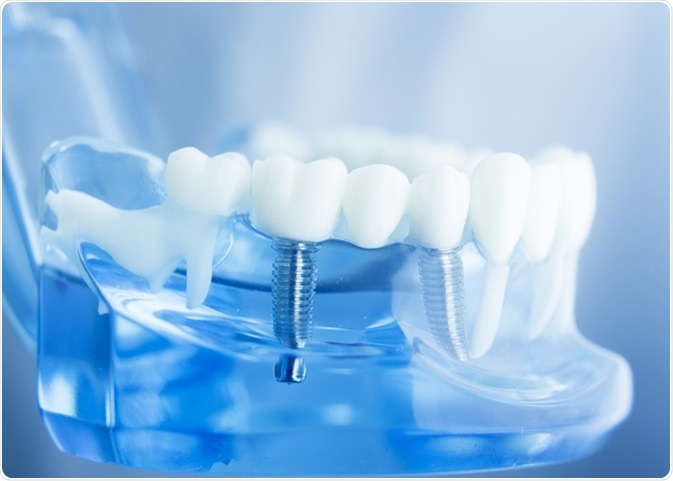 Dental implant. Image Credit: edwardolive / Shutterstock
Individual Tooth Replacement
Dental implants can be used for the replacement of a single missing tooth. This is a fixed solution that provides a replacement tooth which both looks and feels natural, a goal that is desirable for most patients.
In this procedure, a specialized dental drill is used to prepare the jawbone for the insertion of the dental implant that holds the replacement prosthesis in place. An abutment screw is then used to attach an implant abutment to the implant. Finally, dental cement is applied to connect the prosthesis, such as a crown, to the abutment.
Multiple Tooth Replacement
Similarly, to individual tooth replacement, dental implants can be used to attach a multiple tooth dental prosthesis such as a fixed bridge or removable dentures. They may replace only two teeth, which is known as a fixed partial denture, or up to a complete arch of teeth, known as a fixed full denture.
In most cases, bridges connect several adjacent dental implants together. In most cases, fewer anchor points are needed than the number of teeth missing in a row. The teeth placed directly over the implants are referred to as abutments, whereas those that are placed in between without a dedicated anchor are known as pontics.
Benefits of Dental Implants
There are various reasons why dental implants are preferable to conventional crowns, bridges and dentures to replace teeth. These may often be uncomfortable and may slip to cause changes to the way an individual eats or speaks.
The benefits of dental implants include:
Natural look and feel
Similar function to natural teeth
Having teeth which one can easily eat with and clean
Held in place without the need for special glues
Last longer than conventional tooth replacement techniques
Additionally, there is no need for healthy teeth next to the missing tooth to be filed down to support the missing tooth. As a result, these teeth are less likely to require dental work such as root fillings in the future.
A dental implant also ensures that the forces normally applied to the jawbone during the process of chewing continue to be present. This helps to maintain jawbone structure below the tooth replacement and preserve the appearance of the jaw and face.
Given these benefits, dental implants are currently considered to be the treatment of choice for people who have a missing tooth or missing teeth.
References