COVID-19 World News: Trump Now Admits That He Knew About Seriousness Of COVID-19 Since February But Wanted To Play It Down To Not Create Panic!
COVID-19 World News
: The world is now seeing daily infection rates of average above 240,000 new infections per day for the last 2 months with the record highest that was on the 4th of September with almost 300,683 reported cases. As of today the total number of infections has reached almost 28 million with global COVID-19 deaths amounting to about 904,124. Forget about the recovery rates as we now understand that there is no such thing as real recovery and all those infected with the virus will sooner or later suffer certain long term medical conditions associated with the SARS-CoV-2 coronavirus whether heart, kidney, gastroenterological, neurological issues or male reproductive issues among a few.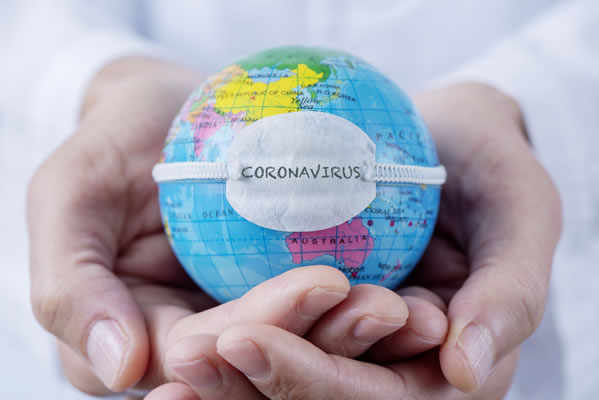 There is also a new hypotheses emerging that the SARS-CoV-2 when it affects the human host, during the time of replication, it also produces a variety of viral proteins that can continue to harm the host slowly even when the virus is no longer present. (More on that later when we cover the published research papers.)
The 'good news' is that we will hit at least more than a million deaths by the end of September. As people are getting 'immune' to the COVID-19 toll rates and adopting that attitude that "its not going to happen to me," hopefully the million mark might start making them to 'wake up' and start being more proactive and take necessary precautions.
America official infection rates have now reached almost 6.4 million with almost 191,000 American dead from COVID-19. Note that the US CDC and other agencies have hinted out on numerous occasions that these figures could be in reality as high as ten-fold due to insufficient testing and also underreporting and concealments. The 'good news' again however is that come end of January 2021, the death rates in America could be reaching millions according to epidemiological modeling platforms.
In a surprise turnaround of events, American President Donald Trump during a white house briefing the last few hours admitted that he know about the seriousness of the deadly COVID-19 disease along with other leaders but was merely trying to downplay the seriousness of the situation to avoid creating a panic!
https://edition.cnn.com/2020/09/09/politics/white-house-behind-the-scenes-trump-woodward/index.html
and
https://www.cbc.ca/news/world/trump-coronavirus-woodward-book-1.5717368
Terms such as deadly, spread by air etc was used which makes us to wonder, if this is really true, which other leaders knew, who else knew and what do they really know and what is really being concealed from the public?
We at Thailand Medical News have already covered our scenario of what is to come in a past editorial and a few hours after publishing it, certain other news sites and news agencies also echoed our article without giving us due credit!
https://www.thailandmedical.news/news/covid-19-second-wave-people-urged-to-start-preparing-for-imp ending-covid-19-second-wave-which-is-going-to-be-catastrophic
We are not going to dwell on this or about Trump as enough have been said and people have to start waking up.
Reverting back to World COVID-19 News:
COVID-19 infections Surge Again At University Of Georgia-U.S.
COVID-19 infections continue to spread at the University of Georgia, with the school reporting more than 1,400 new cases of COVID-19 in the past week.
The infection numbers, reported Wednesday, push the 39,000-student university close to 2,600 total infections in the past four weeks, according to the school's data. Although Georgia College & State University still has recorded a larger share of infections among its campus community since Aug. 1, UGA's outbreak is now the fastest growing among universities in the state that are publicly reporting numbers.
The COVID-19 surge is clearly reflected in the figures for the broader Athens-Clarke County community. Clarke County is 23rd among U.S. counties for the most new cases per capita in the past 14 days.
American Colleges In All 50 States Report COVID-19 Cases As Clusters Linked To Social Gatherings Grow
As colleges begin their fall semester, universities and colleges are struggling to contain coronavirus outbreaks with cases reported at campuses in all 50 states.
It has been reported that there are more than 40,000 cases of COVID-19 among students, faculty and staff at colleges and universities nationwide.
The official infection numbers is likely higher due to a lag from schools that update their data every few days.
As social life is trickling back to life on campuses, COVID-19 outbreaks have hit places students congregate such as fraternities and sororities, where some have continued to gather despite remote learning.
A major cluster of COVID-19 cases was linked to a fraternity party at the University of New Hampshire last weekend. More than 100 students attended the August 29 party and few wore masks. Eleven individuals connected to the party have tested positive for the virus, university officials said.
Meanwhile at Indiana University Bloomington, county health officials ordered 30 sorority and fraternity houses to quarantine last week following what campus officials have described as an "alarming increase" of positive Covid-19 tests within the houses.
The university directed Greek houses to suspend all in-person activities until at least September 14. It's also recommending students in sorority and fraternity houses reevaluate their living situations due to the cluster outbreaks.
It is said that some of the highest number of cases are at Miami University, University of South Carolina, Ohio State University and East Carolina University, all of which have over 1,000 confirmed cases. University of Missouri has 862 confirmed cases while Missouri State University at 791, a CNN tally shows.
Although most students will likely recover, health experts have expressed concern that young people would spread the virus to the more vulnerable in their communities.
Indonesia's Capital, Jakarta To Reimpose Partial Lockdown As COVID-19 Cases Surge
Jakarta plans to re-impose a partial lockdown as early as Monday over fears that surging coronavirus cases could "collapse" its under-pressure hospitals, the sprawling city's governor said.
The sprawling megacity of some 30 million will see many office buildings and large mosques closed along with restaurants and other entertainment venues, while public transport hours will also be restricted.
The official announcement comes three months after an earlier lockdown was lifted, sending infection rates soaring.
Governor Anies Baswedan said late Wednesday, "The Jakarta administration has decided to pull the emergency brake and go back to large-scale restrictions. Without fresh moves to contain virus cases, the capital's hospitals could be overrun as early as next week. After that, Jakarta's health facilities would collapse."
The country's composite stock index briefly plunged more than four percent Thursday in response to the announcement.
Jakarta had by Wednesday recorded just under 50,000 confirmed cases around a quarter of the national total as well as more than 1,300 deaths.
However with some of the world's lowest testing rates, the spread of the disease is widely believed to be much greater than official figures suggest.
United Kingdom Tightens Virus Rules, Aims For 'Moonshot' Mass Testing
The British government on Wednesday tightened coronavirus restrictions due to a sharp rise in cases, banning social gatherings of more than six people and making contact tracing mandatory in pubs and other venues.
Boris Johnson, the Prime Minister said the new "rule of six" in England would replace a raft of regulations he admitted were "complicated and confusing", and help reverse the upward trend of infections.
The United Kingdom has been hard hit by coronavirus, recording more than 41,500 deaths among people who tested positive the highest rate in Europe, and one of the highest in the world.
There have been almost 3,000 daily cases in recent days and new figures revealed a spike in coronavirus cases among young people in particular a trend seen elsewhere Europe.
Johnson said at a news conference to unveil the new restrictions, "I wish that we did not have to take this step. But, as your prime minister, I must do what is necessary to stop the spread of the virus and to save lives."
There will be few exceptions to the new six-person limit, which will come into force on Monday in England only, including for large families, workplaces, weddings and funerals.
Another reported change is that venues such as pubs and restaurants will be obliged to request visitors' details to allow contact tracing if necessary. Previously, they were only advised to.
Also opening times could also be restricted, although for now this will only be in areas already subject to specific restrictions because of local flare-ups.
The British Prime Minister also said that checks on people arriving from countries on the government's quarantine list would also be stepped up.
He stressed, "Let me be clear these measures are not a second national lockdown. The whole point of them is to avoid a second national lockdown."
Interestingly the conservative leader, who is known for his optimism, did not repeat his previous suggestion that life could be back to normal by Christmas.
However he outlined a "moonshot" plan to allow millions of people to be tested every day to allow those without coronavirus to circulate freely.
He further added, "We are hopeful this approach will be widespread by the spring and, if everything comes together, it may be possible even for challenging sectors like theatres to have life much closer to normal before Christmas."
A test trial will be launched next month in Salford, northwest England, although he acknowledged "numerous logistical challenges" adding: "We're not there yet."
The British Prime Minister who himself spent a week in hospital with coronavirus, has faced criticism for his approach throughout the outbreak, accused of introducing the lockdown too late and then lifting it too early.
The highly publicized new testing goal is likely to raise eyebrows as the government is already struggling to meet soaring demand for tests.
Official documents seen by the
British Medical Journal
(
BMJ
) suggest the new programme could cost an eye-watering £100 billion ($130 billion, 110 billion euros).
Dr Martin McKee, professor of European public health at the London School of Hygiene and Tropical Medicine, told the BMJ the plans bore the hallmark of a government "whose ambition far exceeds its ability to deliver".
For more
COVID-19 World News
, keep on logging to Thailand Medical News.