There are many forms of bacteria in the mycobacteria family. For example, the most common mycobacteria can lead to the onset of tuberculosis. Leprosy is caused by other mycobacteria. In addition, other mycobacteria do not specifically cause tuberculosis, but they can still cause harm to sufferers, notably individuals who are immunocompromised – who have an impaired immune system, or who suffer from AIDS.
A pulmonary non-tuberculous mycobacterial (NTM) infection is a lung-based infection. It is the result of an infection by the 150 or so mycobacterial species, but other than by Mycobacterium tuberculosis, which is an aerobic bacterium that is the cause of most cases of tuberculosis.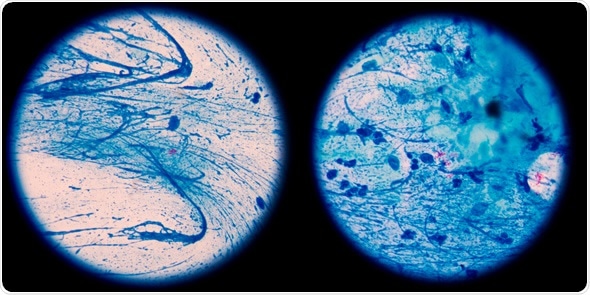 Mycobacterium tuberculosis is a pathogenic bacterial species in the family Mycobacteriaceae and the causative agent of most cases of tuberculosis,in left AFB 1+,in right AFB 2+. Image Copyright: toeytoey / Shutterstock
Causes
Most often, NTM infections can lead to infections of the lung. NTM infections may include:
Intracellular Mycobacterium avium.
Mycobacterium kansasii.
Mycobacteriumgordonae.
Mycobacterium szulgai.
Diagnosis
Non-tuberculous mycobacterial infections can occur in older females who have not previously had any occurrences of lung disease. These types of infections are now occurring more often, usually caused by mycobacteria unrelated to tuberculosis. Diagnosing the condition can be a challenge because the organism cannot be isolated and cultured easily, and generally, the condition is not often thought of as a cause of presenting symptoms.
Symptoms and Treatment
At times, these types of infections present no symptoms. But in some cases, there will be symptoms, some of which could be indicative of tuberculosis, even though the patient may not be suffering from tuberculosis. In general, different therapeutics can be administered to treat these infections, and a true cure may require a variety of medications. Symptoms could include:
Coughing.
Weight loss.
Exhaustion.
Experiencing a low-grade fever and/or chills.
Upheaving mucus or blood.
Loss of appetite.
The two versions of pulmonary NTM infections either involve cavitary lung lesions in the upper lobes, or a noncavitary condition involving certain abnormal dilatations of the bronchi that cannot be reversed, most often in the tongue-like and middle lobes of the lungs. To successfully treat the illness, patients may require antibiotics for 1-2 years. Patients may experience unwanted side effects, though.
But not all treatments may be successful. Moreover, disease progress sometimes can change. If this is the case, it may be better to clear mucus and secretions from the airways, as well as address other underlying diseases and avoid administering antibiotics. Surgery also might be an option, depending in part on any risk it may bring.
On this front, there is a need for clinical evidence to help guide any treatment. So, randomized controlled studies would be one source of this type of evidence.
Lady Windermere Syndrome
The onset of several lung-based non-tuberculosis Mycobacterium avium complex infections is known as the Lady Windermere syndrome. The condition often occurs in older white females who habitually repress their cough reflex. Those who give great attention to small detail and who are hesitant to cough or spit phlegm from the throat or lungs seem to be disposed to the syndrome. Usually, the ailment involves a chronic condition in which inflammation and infection are found in the bronchi walls. Those with this condition often experience difficulty breathing. There also may occur some scarring of the lungs.
The condition was named in reference to the Oscar Wilde Victorian play, Lady Windermere's Fan, suggesting that the character's overly fussy behavior may have been the cause of her illness. Lady Windermere Syndrome itself can lead to right middle lobe syndrome in some patients. Right middle lobe syndrome refers to a collapse of the right middle lobe of the lung, even if there has been no organ or tissue damage. The condition often is associated with inflamed and infected walls of the bronchi. Treatment with medications or surgery may be required to correct the condition.