Lipodystrophy is a group of rare disorders characterized by the abnormal utilization and storage of body fat. The most common signs of lipodystrophy are an abnormal distribution of body fat and an insatiable appetite.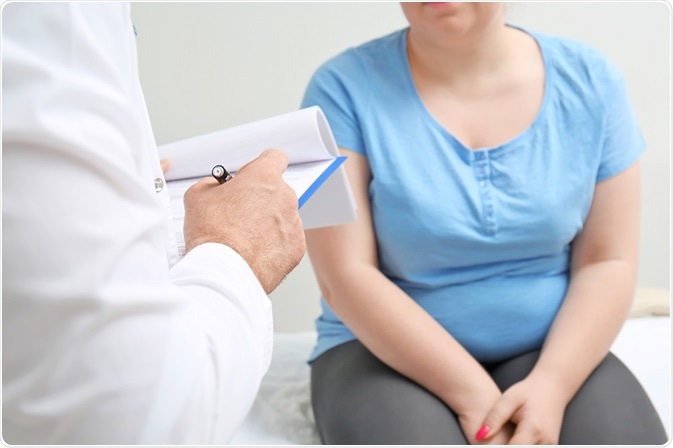 Credit: Africa Studio/Shutterstock.com
The condition is classified based on multiple parameters. Depending on the size of affected area, three different types have been defined: localized (affecting small patches under skin), partial (affecting certain body organs or regions), and generalized (affecting the entire body).
Lipodystrophy is generally associated with other metabolic complications such as insulin resistance and hypertriglyceridemia. In extreme cases, cirrhosis of liver has also been reported. Generalized lipodystrophies and associated metabolic complications are more severe because of an early age onset and a greater extent of fat loss.
Lipodystrophy Diagnosis
A diagnosis of lipodystrophy depends heavily on the identification of type-specific symptoms. Patients with acquired lipodystrophies suffer from loss of subcutaneous adipose tissue (panniculitis) followed by severe loss of supportive fat from hands, feet, genital area, and retro-orbital cavity resulting in drastic change in physical appearance. Higher basal metabolic rate and diabetes are often reported.
Acquired lipodystrophy Symptoms
While acquired generalized lipodystrophy (AGL) affects the majority of organs, acquired partial lipodystrophy (APL) mainly affects the upper body (face, chest, arms, and neck). Patients with APL suffer from loss of fat from upper extremities, and accumulation thereof into their lower bodies. APL is generally not associated with metabolic complications.
With any acquired lipodystrophy type, unusually high appetite (hyperphagia) has been observed. Acromegaly is also common when accompanied by hormonal imbalance. Scattered areas of velvety dark skin are also observed. Women with AGL are predisposed to polycystic ovary syndrome (PCOS).
Localized forms of lipodystrophy are diagnosed by one or more protrusions or pits on the surface of skin, usually limited to small patches. Despite the appearance akin to some skin disease, skin per se is not affected. This is due to abnormal subcutaneous fat in that particular area.
Congenital generalized lipodystrophy Symptoms
Congenital generalized lipodystrophy (CGL, or "Seip-Berardinelli syndrome") is identified by overall absence of fat from birth or during infancy. Due to a lack of body fat, children with this condition appear very muscular. They exhibit complications similar to those of AGL including severe insulin intolerance, hypertriglyceridemia, frequent pancreatitis, high basal metabolic rate, and acanthosis nigricans (dark velvety patches of skin). A large liver and spleen have also be noted in several cases.
Familial partial lipodystrophy (FPL, also known as Kobberling-Dunnigan syndrome) is characterized by its onset time. Patients have healthy fat distribution at birth and during infancy. The loss of subcutaneous fat from upper and lower limbs and chest starts during early puberty. Symptoms gradually extend to face and neck as well. However, deep fat depots in the body usually remain preserved in patients with this condition.
HAART-induced lipodystrophy Symptoms
Another noteworthy form of lipodystrophy is highly active anti-retroviral therapy (HAART)-induced lipodystrophy. This is specifically seen in patients who receive nucleoside analogues and protease inhibitors for the treatment of HIV. It is characterized by unusual thinning of arms, legs, and cheeks, and intra-abdominal and dorsocervical accumulation of fat.
Apart from these, several other genetic variants of lipodystrophy are known, which in addition to physical and metabolic complications, also cause progressive neurodegenerative changes.