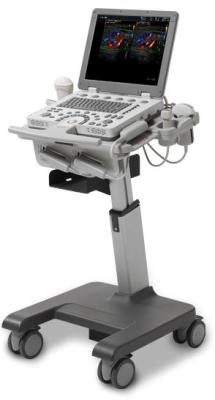 MySono U6 provides the ultimate in content optimization for a portable system. Vastly improved resolution allows you to provide the most accurate clinical outcomes.
Features and Benefits
Compact and lightweight
MySono U6's slim design and 5.6 kg weight make it compact and easy to carry.
Ergonomic design
Major key functions are grouped under the palm of your hand for maximum efficiency and applied ergonomics. MySono U6 cart is equipped with front and back handles for mobility.
High resolution 15" LED monitor
MySono U6's 15" high resolution LED monitor delivers superb image quality.
Backlit keyboard and control panel
MySono U6 features a full color backlit LED keyboard and control panel that enables you to work in dark surroundings.

For more detail: http://www.samsung.com/global/business/healthcare/healthcare/ultrasound/USS-MYU6N10/WR