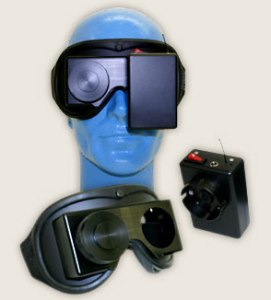 A very light, handy and reliable video nystagmoscope (goggle), fit out with a stable infrared video camera of high resolution, which gives a faithful image of excellent quality. This camera can be tipped over from eye to the other very easily.
Its direct connection to the video input of all the monitors and T.V sets provided with a scart plug makes it very practical and functional, which makes the home, exams and those at hospital easier to do. Moreover, the test can be video-taped and the nystagmus which are examined can be filed.
Set made up of :
a Framiscope standard glasses with a VIDEO / CAMERA unit.
a portable electronic torch (image processing and radio transmitting 2.4Ghz or 5.8Ghz frequency) 6 X 3 X 2,5 inches, which works on battery.
an electronic torch, radio receiver and related to a T.V monitor thanks to a scart plug (in option : computing monitor - VGA). External mains operated 230 Volts.
For more detail: http://framiral.fr/2015/eng/products/framiscope/