World Health Organization Warns Europe Could See More Than 500,000 New COVID-19 Deaths By February 2022 As New Variants Wreak Havoc In Europe!
Good News! Fortunately, the SARS-CoV-2 coronavirus is taking the lead again especially in the Western world where arrogant but ignorant elites think that they know better about everything and have been trying to control the narratives on the COVID-19 pandemic. Why only in the last 24 hours a lot of stupid British and American mainstream media along with their so-called 'medical experts' were bragging that the COVID-19 pandemic would come to an end by early 2022.
https://www.eureporter.co/world/2021/11/04/country-by-country-scientists-eye-beginning-of-an-end-to-the-covid-19-pandemic/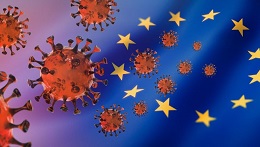 Hilariously now a few hours later, because of emerging data, even the World Health Organization is issuing a warning that the situation in Europe is gradually spiraling out of control. Too much faith in the vaccines, relaxing of social distancing rules and easing of lockdowns coupled with lack of proper genomic surveillance coupled with the lack of sharing of data between countries and a lot of 'virology experts' who are basically dinosaurs set in their old way of thinking will lead to a catastrophic situation, more so in the Western countries.
Speaking at a press conference a few hours ago, WHO Europe head Hans Kluge said the continent could see half a million more deaths by February. We at Thailand Medical News are hoping that values would be wrong but higher instead like about 50 to 500 million. I personally am praying for the advent of a new recombinant variant that will not only be totally immune evasive but will increase the occurrence ADE greatly!
The WHO said that Europe once again is at the epicentre of a new COVID-19 surge and it is only a matter of time before that occurs in the United States as well.
Unfortunately, the WHO has also been bought over by the Western elites controlling the COVID-19 narratives and are blaming the lack of insufficient vaccine take-up for the rise when the mutations are actually arising from the virus fighting back against the antibodies induced by the vaccines. The WHO has been complacent in terms of putting antivirals and other pharmaceuticals to inhibit the virus as a first priority.
The WHO Europe head is insistent that the lack of vaccines uptake is the cause for the surge.
Mr Kluge said, "We must change our tactics, from reacting to surges of COVID-19 to preventing them from happening in the first place. The rate of vaccination has slowed across the European continent in recent months While some 80% of people in Spain are double jabbed, that number is lower in France and Germany ie at 68% and 66% respectively and lower still in some central and eastern European countries. Only 32% of Russians were fully vaccinated by October 2021."
He also blamed a relaxation of public health measures for rising infections in the WHO's European region, which covers 53 countries including parts of Central Asia. So far the WHO has recorded 1.4 million deaths across the region.
Maria Van Kerkhove, the WHO's technical lead on Covid-19, said over the past four weeks cases across Europe had soared over 55%, despite an "ample supply of vaccines and tools", and colleague Dr Mike Ryan said Europe's experience was a "warning shot for the world".
/>
Germany
In the last 24 hours, Germany recorded almost 34,000 new daily COVID cases, a record rise.
Although the daily infection numbers in Germany are below the UK's latest daily case numbers of more than 37,000, public health officials are worried that a fourth wave of infection could lead to a large number of deaths and pressure on the health system. In the past 24 hours 165 deaths have been recorded, up from 126 a week ago. May local German physicians are saying that the actual numbers are almost 5 fold!
Dr Lothar Wieler of Germany's Robert Koch Institute spoke of terrifying numbers, "If we don't take counter-measures now, this fourth wave will bring yet more suffering."
It was reported that the many Germans who have not been vaccinated are more than three million over-60s, seen at particular risk.
However, as Hans Kluge pointed out, the surge in cases is not confined to Germany.
Croatia
Croatia recorded its highest coronavirus infection rate in a single day Thursday, as officials in the country with some of Europe's lowest inoculation rates urged the public to get vaccinated. A total of 6,310 people tested positive for COVID-19 in the past 24 hours, official figures showed. Croatia's Prime Minister Andrej Plenkovic took aim at the country's unvaccinated majority, pinning the blame for the jump in cases on their reluctance to get the jab.
He said, "The unvaccinated determine the dynamics of the epidemiological situation."
Just around 44 percent of the country's 4.2 million people have been fully vaccinated since the shots were introduced late last year.
Ukraine
Over the past day, 27,377 new COVID-19 cases were confirmed across Ukraine.That's according to the Ministry of Health's Facebook post.
Among those infected 1,787 were underage patients and 426 medics.
Over the past 24 hours, 5,472 patients were hospitalized, while 699 fatal cases were reported, as well as 12,464 recoveries.
Throughout the entire pandemic period, 3,006,463 people contracted the virus, of whom 2,479,138 recovered and 70,146 died.
Russia
The most dramatic rises in fatalities have in the past week been in Russia, where more than 8,100 deaths were recorded.
Daily coronavirus cases and deaths in Russia remained at their highest numbers of the pandemic Wednesday as more regions announced they were extending existing restrictions in an effort to tame the country's unrelenting surge of infections.
Russia's state coronavirus task force reported 40,443 new confirmed cases from a day earlier. It was the fifth time in seven days that the country reported more than 40,000 infections. The task force also reported a daily record of 1,189 COVID-19 deaths.
Romania
Romania recorded its highest number of deaths in 24 hours this week at 591.
In Romania, only 35 percent of adults are fully inoculated against COVID-19 compared with an EU average of 74 percent. It is the second-least vaccinated nation in the 27-nation bloc.
That is crippling Romania's creaking healthcare system, which is also facing record-high death and infection numbers.
Romania has reported more than 1.5 million cases of the coronavirus, including at least 44,000 deaths, since the pandemic began.
In an attempt to curb the deadly surge and relieve pressure on hospitals, authorities approved tighter restrictions set to take effect from Monday.
Hungary
in Hungary, daily COVID infections have more than doubled in the past week to 6,268. Mask-wearing is only required on public transport and in hospitals.
Dr Gábor Vattay, epidemiologist and head of the Department of Physics of Complex Systems at ELTE, concluded in his latest forecast
,
"Around November 8-10, the data will start to become alarming again. By the middle of the month, Gábor Vattay says we will reach 4,000 hospitalizations and 90 deaths a day. Definite measures will certainly be taken, but they will no longer have a significant impact on the dampening effect. By November 22nd, the number of hospital inpatients will be around 8,000, and the daily mortality rate will be around 150-180."
Elsewhere in Europe
It was reported that this week the Dutch government said it would reimpose mask-wearing and social distancing in many public settings as it emerged that hospital admissions had gone up 31% in a week.
The country of Latvia meanwhile is imposing a three-month state of emergency from Monday amid a record level of COVID infection.
Slovakia has reported its second highest number of cases and Czech infections have returned to levels last seen in spring.
Italy has one of the highest vaccination rates for over-12s but even here new cases are up 16.6% in the past week.
In Portugal, COVID-19 infections have risen above 1,000 for the first time since September.
Interestingly Spain is one of the few countries not to see a rise in transmission with only 2,287 cases reported on Wednesday.
As far as England and Ireland is concerned, both are on a path of doom despite having high vaccination rates. Hopefully in coming weeks and months, we can see more fun in both England and Ireland as hospitalization rates and deaths increase.
For more on the coming COVID-19 surges and the rise of the new SARS-CoV-2 variants and sub-variants, keep on logging to
Thailand Medical
News-the only medical news site for intellectuals and those who will survive the ongoing pandemic and not for the stupid masses.