Vedicinals-9: An Indian Approved Nutraceutical Shows Efficacy As An Adjuvant To Treat COVID-19 And Long COVID In WHO Registered Clinical Trial!
The pharma and research industry has been abuzz the last few days after the preliminary release of a WHO registered randomized clinical trial results involving the usage of an Indian approved nutraceutical compound called
Vedicinals-9
as an
adjuvant to treat COVID-19
. Not only were the results found to be extremely encouraging in terms of a therapeutic agent to treat COVID-19 but the product was also found to be able to prevent long COVID conditions from manifesting as well based on follow up observations of the patients treated with the nutraceutical weeks and months after recovery.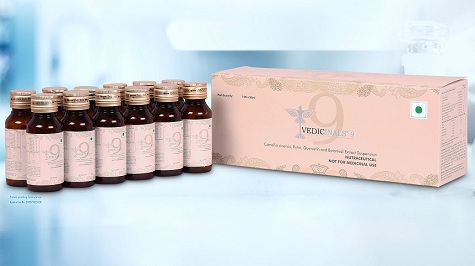 The randomized clinical trial was conducted by researchers from two medical institutions in India ie one based in Delhi and the other in Indore using the nutraceutical suspension called Vedicinals-9 that is made by a German-Indian biotech company based in Pune, called Vedicinals PvT Ltd.
The clinical trial results can be found on the website of the company and will be uploaded on the preprint server MedRxiv in coming weeks. Thailand Medical News will be covering a detailed review of the product then.
https://www.vedicinals.com/human-clinical-trials/
https://search.bvsalud.org/global-literature-on-novel-coronavirus-2019-ncov/resource/en/ictrp-CTRI202010028364
The randomized clinical trial which involved 124 patients with almost half using the nutraceutical product alongside standard approved COVID-19 treatment protocols showed better clinical outcomes including faster viral clearance, accelerated repair of lung damage, prevention of severe COVID-19 disease progression, improvements of various key biomarkers such as IL-6 and CRP, faster resolution of clinical symptoms such as fever, cough, fatigue etc and also organ protection. Interestingly, patients given the adjuvant upon follow up checkups - weeks and months later were found to not exhibit any conditions associated with Long COVID.
Yogendra Kumar Choudhary, Chief Research Officer at Vedicinals Pvt Ltd and CEO at Ethix Pharma Pvt Ltd told media, "The study demonstrated that 58% of patients in the Vedicinals-9 treatment group were discharged from hospital in the first 4 to 7 days of testing positive compared to the 37% standard care treatment group with improvement to 77.05% of normal X-ray findings in 12 days. Comparing the two treatments, a clear significant (p<0.05) difference was seen in the resolution of most symptoms, including fever, dry cough, fatigue, myalgia, sore throat, hypoxia and dyspnea. The significant improvement (p<0.05) in the prognostic, inflammatory and immunomodulatory biomarkers assessed as the change from baseline (CFB) to day 5, 12 and 45 in CRP, Total Antibody, IL-6 and change from baseline (CFB) to day 12 and 45 in Ferritin, D-dimer, CD4+ T cell, CD8+ T cell, CD19+ B cell, CD16+/CD56+ NK cell were reported in our randomized, open label, multi centre, exploratory, Phase II b trial in mild to moderate COVID-19 patients. Overall, the early discharge, improved symptomatology and biomarkers indicates a possible positive effect for Vedicinals-9 as an add-on therapy for the management of COVID-19."
Another interesting aspect of the potential therapeutic effects of the adjuvant from the clinical study results is its potent capability to help in lung damage resolution at a much accelerated phase based on evidence from x-rays of infected patients treated with the nutraceutical suspension.
https://www.vedicinals.com/lung-damage-in-covid-19-patients-lung/
A detailed long term evaluation of patients treated with Vedicinals-9 showed that most had not developed long term health complications typically associated with Long COVID.
The nutraceutical suspension: Vedicinals-9 consists of 9 bioactive molecules including Baicalin, Quercetin, Luteolin, Rutin, Hesperedin Curcumin, Epigallocatechin Gallate, Piperine, Glycyrrhizin. All these 9 bioactive molecules were selected based on silico studies, meta-analysis of past published studies, various studies on their drug target pathways and also their ability to be able to correct or stop various human host cellular pathways disruptions caused by the SARS-CoV-2 coronavirus. Details of these are found in the Vedicinals9 white paper. https://www.vedicinals.com/whitepaper/
Importantly these 9 bioactive molecules also have supporting published studies conducted by other research teams showing their individual efficacy against the SARS-CoV-2 coronavirus. https://www.vedicinals.com/bioactive-molecules-in-vedicinals-9/
It should be noted that Vedicinals9 has already gone thru extensive safety studies including toxicity and myocardial infarction studies involving Sprague Dawley Rats.
The studies not only showed that Vedicinals-9 was a safe product but there was
actually data showing that VEDICINALS® 9 provided cardio protective benefits including significant protection of heart muscle tissues, blood vessels and the cardiovascular system.
https://www.vedicinals.com/safety-studies/
The nutraceutical suspension Vedicinals-9 has already been used in a variety of hospital settings throughout India with positive results and is now available throughout the country at leading hospitals, clinics, pharmacies and also through Vedicinal's own online shop. https://www.vedicinals.com/product/vedicinals-9/
The nutraceutical product is being sold at a net price of about US$135 for the Indian market for a set of 14 doses. This is a merely an introductory price for the next few months to help as many locals access the product at an affordable price. The product is priced much higher in overseas markets due to shipping cost and taxes.
Vedicinals-9 is currently undergoing observational clinical studies in Columbia, Brazil, Iran, Indonesia and Pakistan. A larger randomized human clinical trial is being planned for the United States in the state of Oregon and also in UK.
The product is also undergoing regulatory approval as a nutraceutical supplement in Japan, Australia, Indonesia and Singapore. Plans are also underway to submit the product for regulatory approvals in Thailand, Canada and Taiwan.
A major deal is currently underway for one of the largest nutraceutical brands in the United States to develop the same product based on OEM and license of formulation agreement.
Prakash Salunke, Managing Director of Vedicinals Pvt Ltd said, "As of Today (29st June 2021) our product Vedicinals-9 is certified as a nutraceutical product in India by the FSSAI. Our FSSAI License no 10020028000199. As a result of the conclusion of our WHO registered randomized human clinical trial with results reported to both CTRI India ((trial number CTRI – CTRI/2020/10/028364) and also to WHO, we are in the midst of upgrading our certification to that as Food For Specific Medical Purpose (FSMP) which will soon be granted by the FSSAI. Our next obvious step is to continue further studies and trials in order to meet the requirements for compliance and certification of VEDICINALS-9 as a Phyto-pharmaceutical product. We are already receiving overwhelming response for Vedicinals9 due to its efficacy and are now in the midst of making preparations to scale up production along with our partners."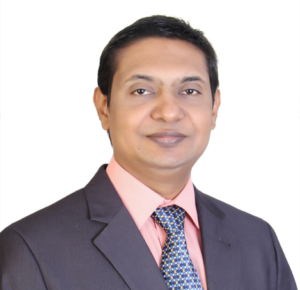 Prakash Salunke, Managing Director of Vedicinals Pvt Ltd
Joachim Gerlach, Chairman of Vedicinals Pvt Ltd added, "My main motivation to dedicate so much time and effort into the development of an adjuvant COVID THERAPEUTIC product is part of our corporate philosophy of long lasting and genuine care for people's wellbeing. Apart from vaccines, it is very important to also provide therapeutic solutions in order to fight this pandemic and the Long COVID conditions. I stand personally to guarantee the honest and scientifically sound methods by which our company operates and the amount of scientific scrutinity we had gone through in the last 15 months to ensure that we have product that has efficacy against the COVID-19 disease and that is backed by scientific research and data."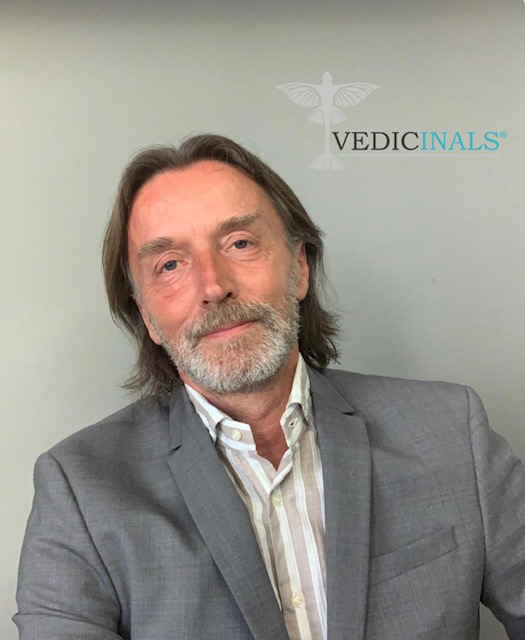 J
oachim Gerlach, Chairman of Vedicinals Pvt Ltd
The findings of the retrospective randomized clinical study demonstrate a promising role of Vedicinals-9 as a therapeutic agent for COVID-19. It was found to help curtailing symptoms, preventing disease progression and strengthening the natural defenses of the human host and also was found to aid in various post COVID-19 secondary complication.
Specially for the symptoms of fever, dry cough, dyspnoea, headache, diarrhoea and weakness, reduction of viral load and the recovery time for the treated patients was significant shorter in comparison to the standard treatment. In addition, post COVID-19 secondary complication like Cardiovascular, Neurological, Pulmonary, Renal, Myocardial, Hepatic and Pancreatic were attenuated in the adjuvant treated patients in comparison to the standard treatment alone.
Elevated Ferritin and Prothrombin levels in tests point towards an issue in blood coagulation, an abnormality that is significant in view of severe COVID-19 infection. Vedicinals-9 has significantly improved the ferritin levels and prothrombin time in randomized clinical trial.
In most COVID-19 patients, elevated IL-6 and CRP levels indicate severe inflammation in the body and are associated with mortality risk. Vedicinals-9 has significantly decreased IL-6 and CRP levels in this randomized clinical trial.
Biomarkers such as SGPT, Creatinine, Albumin, CPR, Troponin, etc check for tissue damage of vital body organs including liver, kidney, and heart.Vedicinals-9 has demonstrated to significantly protect these vital organs from damage in the randomized clinical trial.
Apart from these specific tests, the complete blood count (CBC) test gives a complete picture of blood and any significant rise or fall in the critical blood-related numbers. Vedicinals-9 has resorted the altered biochemistry and maintained the CBC to normal levels in the randomized clinical trial.
Reduced white blood cell count (lymphopenia), increase in neutrophils (neutrophilia), elevated levels of liver enzymes ALT and AST, CRP, and ferritin levels have been associated with greater disease severity and hospitalization in COVID-19 patients, which in turn has been managed and reversed by vedicinals-9 with reduced hospitalization or early discharge.
A raised serum C-reactive protein (CRP) level had been observed in most people with COVID-19. In fact, people presenting with severe pneumonia had high CRP levels. As per studies published, CRP levels along with X-Ray can be used in the early diagnosis of pneumonia. Vedicinals-9 has shown remarkable lung tissue repair as seen in the X-Ray outcomes along with reduced CRP levels in the randomized clinical trial.
When compared to non-ICU patients, lymphopenia (reduced levels of white blood cells) was more common in ICU patients. Vedicinals-9 was found to not only prevented lymphoenia conditions from arising but also prevented severe disease progression.
On the whole, compared to any current therapeutic agent being used to treat COVID-19, Vedicinals-9 out-performed them at a pace far ahead and in fact a detailed analysis of 71 human host pathways that were found to be disrupted or damaged by the SARS-CoV-2 coronavirus were to a degree rectified or resolved through the actions of the bioactive molecule constituents found in Vedicinals-9. https://www.vedicinals.com/drug-target-pathways/
Importantly Vedicinal-9 as an adjuvant to treat COVID-19 will also put India back on the map again as a leading hub for pharmaceutical and nutraceutical development and production.
Also the product is also considered effective against emerging SARS-C0V-2 variants based on computation docking studies, studies of its individual constituents against the SARS-CoV-2 coronavirus new variants and also based on informal observation trials being conducted.
A more detailed trial will be commencing soon to further prove its already known efficacy against the emerging Delta Plus and Lambda strains.
It should also be noted that from the clinical studies, it was found that Vedicinals-9 also protects from any harmful effects from the various drugs used in approved standard treatment protocols in India.
The product can be used both with or without a doctor's supervision as it is registered as a safe nutraceutical compound.
With currently no known therapeutic product that is effectively able to treat COVID-19, Vedicinals 9 offers a ray of light especially in the coming and anticipated catastrophic surges in this ongoing COVID-19 pandemic.
A leading pharmacist in Pune, Asha Sabnani told Thailand Medical News, considering that the Delta Plus variant is now fast spreading in India and expected to contribute to yet another disastrous surge, I am taking no chances for my family and am stocking on boxes of Vedicinals9 as I do not want to be in the situation seen during the last surge when we could not get access to any oxygen or drug supplies and even simple supplements like Vitamin D, melatonin etc were out of stocks and prices in the black market were going for about 15 to 30 times the original prices."
NOTE: All readers are advised to do their own due diligence. Thailand Medical News does not endorse nor promote this product as we have never had the opportunity to try nor test the product.Our write up is only based on study literature available.
For more on
Vedicinals-9
as a therapeutic to treat COVID-19, keep on logging to Thailand Medical News.