Thailand Coronavirus: Thailand Authorities Report 27 Deaths And 1763 New COVID-19 Infections In Last 24 Hours. Fake News Or True?
Thailand Coronavirus News
: This morning Thai authorities released figures for COVID-19 deaths and infections for the last 24 hours, claiming that there was only 27 new COVID-19 deaths and 1763 new COVID-19 infections. What they failed to say was the number of COVID-19 testing done in the last 24 hours for the country's population of about 70 million, not including millions of foreign workers and illegal migrants.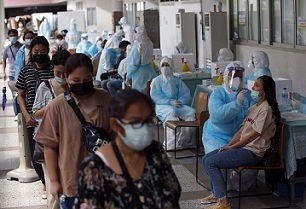 On ground reports are saying that va number of hospitals across the country has closed as a result of health care workers having being infected or been exposed to infected individuals. In certain rural areas, people have no access to COVID-19 testing facilities and proper medical treatment.
Field hospitals are fast filling up and slum areas in Huay Kwang, Lardphrao, Samu Prakarn and Klong Toey are fast becoming COVID-19 hotspots.
Despite private hospitals already turning away prospective patients, the authorities are claiming that they have the situation under control.
Various groups have started their own online reporting on the actual situation including certain groups in Thai monitoring the actual ground situation in various places.
Interestingly apps that were once used for people to log in when they visit shopping malls and public places are no longer being enforced and people are questioning as to why this is so.
Somethings do not seem to add up with regards to the actual ground situations and we welcome readers to send us reports or whatever data they can access to or even pictures etc.
Thailand Medical News will continue to provide daily reports on the actual COVID-19 situation in Thailand which is expected to worsen in coming weeks.