Thai Public Health Minister Says That Westerners (Farangs) Should Be Expelled From Thailand For Not Wearing Mask
Media Reports are emerging all over
Thailand
that the Thai Public Health Minister Anutin Charnvirakul was upset today while distributing mask as Siam Square as part of a PR exercise to combat the spread of the
coronavirus
, when a group of white caucasians refused his offer of the free mask.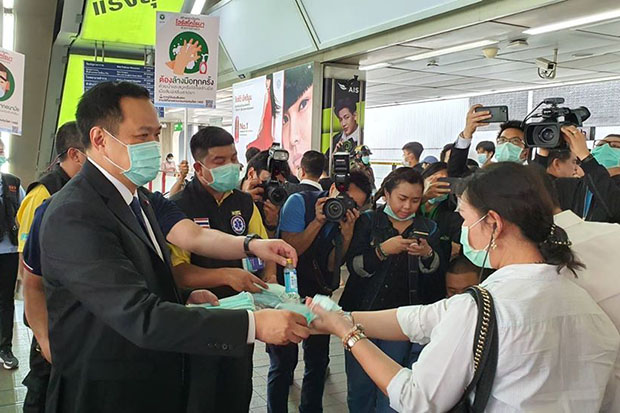 Public Health Minister Anutin Charnvirakul hands out masks tor skytrain passengers
at Siam station on Friday. (Photo from Anutin Charvirakul Facebook account)
He immediately got upset, lashed out and commented to reporters nearby in Thai saying that all 'farangs'(a Thai derogatory term for Westerners) should be expelled from
Thailand
for not wearing mask according to the reporters and media reports.
It was said that reporters were shocked at his racists outbursts and some said that the tourists could not be blamed as the Minister was surrounded by police and immigration officials and most tourists would find the situation intimidating and annoying.
"These kinds of people, we should kick them out of
Thailand
," he told reporters, waving a handful of masks in the air.
It was said that the Minister who is also the deputy Prime Minister later posted an apology on his Facebook page for "losing it" after "some foreigners from Europe" were uncooperative while he was out campaigning for people to wear masks. "We never know which country foreigners have visited before they come to
Thailand
," he wrote. Their previous stop could pose a health risk for the kingdom.
The overzealous minister to a certain extent could not be blamed for getting upset considering the seriousness of the
coronavirus
situation but he should not have reacted in public in such a manner.
Many Thais and foreigners had complained over the last two weeks that despite the Thai government assuring that there was huge stockpiles of mask in the country via its regular PR exercises and media coverage, no one could find a shop selling them as stocks had run out due to many Chinese buying them in bulk and shipping them to China, the epicenter of the coronavirus outbreak.
The government yesterday announced that it would arrange for mask to be sold at the GPO outlets and at certain blue flag shops.
In Singapore however, the Singaporean government went of an initiative of arranging to make sure that every household gets adequate stocks of mask for free, whether Singaporeans or foreigners.
Many Thais were quick to go online to express their frustrations saying that while the Singapore government gives out free mask to its citizens; Thai government tells it citizens to buy them.
Should the Health Minister keeps to his words of expelling every Western person out of the country for not wearin g a mask, it could lead to massive logistics problem as there are many Western tourists visiting
Thailand
to help the tourism industry which Thailand is greatly dependent upon, and also many Western expats who contribute to the local economy who do not have access to know where to buy masks since most of the governments announcements are in Thai and most government information sites are also in Thai.
It is also not known if Chinese nationals not wearing mask are excused and for that matter other nationalities like Indians etc
The minister's outburst also reflects the underlying feelings most Thais have towards Westerners.
One sad Westerner who has been in
Thailand
for many years commented, "They like our money but not us!"
For more updates about the Westerners situation in Thailand or the
China

coronavirus

epidemic
or the
Thailand Coronavirus
scenario, keep on checking at:
https://www.thailandmedical.news/articles/coronavirus