South Korea Coronavirus Epidemic: Shortage Of 2000 Hospital Beds In Daegu As Cases Skyrocket. 33 Deaths, 5621 Infected, 27 Critical
South Korea Coronavirus
situation continues to escalate with no slowdown in sight. In the last 24 hours, 435 new cases was detected, bringing the infected toll to 5,621 and also 1 new death was reported, briningg the number dead to 33 while 27 patients are in critical condition. There also more than 420,000 suspected cases being investigated and tested all over the country.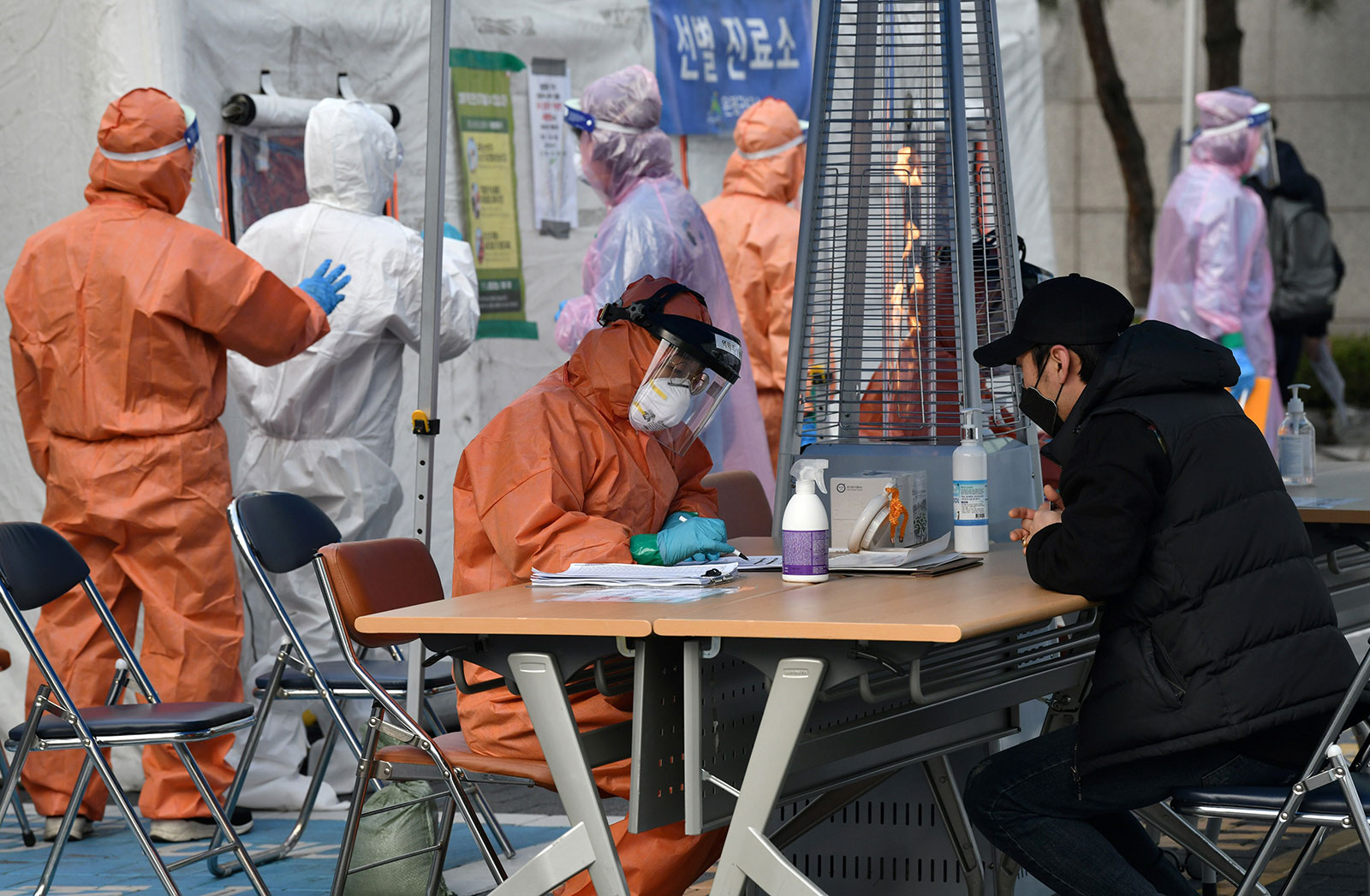 Jung Eun-kyeong, the head of the Korea Centers for Disease Control and Prevention, said that about two thirds of those cases have been related to a cluster transmission, while the others have transmitted sporadically.
He also said that as of Wednesday, about 3,000 members of the Shincheonji cult group have tested positive for the novel coronavirus, accounting for 56% of cases nationwide. Among those confirmed cases within the cult group, some 2,900 cases are related to a branch in Daegu
More than 2,000 confirmed patients in Daegu and North Gyeongsang province are at the moment waiting for hospital beds as all the hospitals in the province are currently overflowing with patients.
The South Korean health authorities began categorizing confirmed cases so that patients with more serious health conditions can be hospitalized, while people with milder symptoms can be monitored from home or government designated facilities.
Meanwhile, South Korea authorities announced that they has come up with a new way to make sure people self-quarantined at home stay put by using a GPS-based app. South Korean authorities said that several people have broken quarantine and left their homes, causing a risk to the public.
It is said that the app will monitor people who are quarantined and if they leave their designated location, the system will set off an alarm. The new app will be implemented later this week in Daegu and surrounding North Gyeongsang province, where about 86% of national infections have been reported, according to the government. It is estimated that more than 2,400 people are currently under quarantine in Daegu alone.
Park Jong-hyun, a public relations official of the Central Disaster Relief Headquarters, announced at a briefing on Wednesday "The government discussed about a more efficient way to monitor people in quarantine and developed an application."
However when asked by a
Thailand Medical News
stringer about scenarios where patients might leave their homes without taking their phones and leaving to others to maintain their phones, there was no answer from the official.
Also, Vietnamese budget carrier Vietjet Air has announced that it was suspending all flights between Vietnam and South Korea due to the coronavirus epidemic.
In a press release, Vietjet said that it has been coordinating closely with authorities to control the disease and ensure the highest safety of passengers and crew in accordance with World Health Organization recommendations.
The flight suspension between South Korea and Vietnam had already began on Tuesday, according to the release
Vietnam has also stopped issuing visas to South Korean nationals in order to try and curb the spread of the virus.
To date, Vietnam has reported 16 confirmed coronavirus cases.
For more on the
South K orea Coronavirus
epidemic, keep logging on to:
https://www.thailandmedical.news/articles/coronavirus