There are unsubstantiated claims circulating that statistical data on the number of COVID-19 infections and deaths released by certain authorities are nothing but fake news. When one was to look at the shortage of hospital beds across the country, field hospitals quickly filling up, media reports of people dying in homes as a result of not being able to get a hospital bed or any help, reading about how many hospitals are shutting down in various provinces as a result of health care workers getting infected or exposed to infected individuals, one cannot help but wonder if these claims are true after all.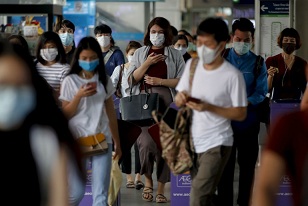 Despite a PR campaign by the government to reassure the public that they have things under control and that they have sufficient vaccine stocks coming in and also sufficient antivirals like favipiravir (A drug that the US FDA has claimed to be not effective against the SARS-CoV-2 coronavirus.) to handle the growing numbers of infected, people are getting nervous and worried.
https://www.biorxiv.org/content/10.1101/2020.04.29.067983v1
What is also concerning is that the testing rates in just Bangkok alone is so small considering that the population of the city is about 11 to 12 million. In rural provinces, the testing rates are also just as limited.
There are already complains and warnings being issued by prominent Thai doctors, that even at the current rate of daily infections, the health care system could collapse in coming days.
No one knows that exact preparedness of the public health care system. To date it is already emerging that as a result of the disastrous situation in India, a global shortage of pharmaceuticals and APIs (active pharmaceutical ingredients) is occurring. We do not know if there are sufficient ICU beds and even ventilator or oxygen supplies or will Thailand become another India in weeks.
We still do not have compulsory genomic testing of variants or strains for every identified COVID-19 infection. We do not have details of the variants circulating around and even if a local strain has emerged.
There seems to be a shortage of test kits in certain private hospitals who are turning away people wanting to do tests.
The public are not allowed to import in test kits from overseas as certain politicians want to maintain a monopoly on the test kits, drugs and even vaccines.
The general public is clueless how to manage the sickness themselves or what preventive measures to take besides using a mask, washing hands and social distancing.
Instead of focusing on the dire COVID-19 needs, the government is setting up agencies
https://thethaiger.com/coronavirus/thai-authorities-set-up-centre-to-investigate-fake-news-surrounding-covid-19
to deal with fake news and also condemn the usage of using herbs and repurposed drugs while certain politicians are trying to control the monopoly of herbs like honey suckle, licorice root etc.
https://www.nature.com/articles/s41421-020-00197-3
https://www.biorxiv.org/content/10.1101/2020.12.18.423104v1
& amp;nbsp;
Certain Thai doctors and commoners who advocating the usage of Budesonide nasal sprays and also Ivermectin are being condemned.
https://www.medrxiv.org/content/10.1101/2021.02.04.21251134v1
https://www.medrxiv.org/content/10.1101/2020.08.19.20178368v1
https://covid19criticalcare.com/ivermectin-in-covid-19/
However the death rates are increasing each day and the number of individuals in ICUs and in severe conditions are also increasing.
We have prominent ex-drug dealers going around and boasting on media cameras that sprays containing cannabis extracts can ward off the SARS-CoV-2 virus! (Not sure if that is legal?)
The government is also telling people to get vaccinated but the problem is that people are not going to be given a choice of vaccines to choose from and have to take whatever is thrown at them by officials who are involved in the procurement deals! To make matters worse, people cannot even locate the vaccines to take!
It is expected that in coming days, the situation is expected to worsen despite some experts saying that the virus situation in Thailand has peaked.
https://abcnews.go.com/Health/wireStory/thailand-covid-19-peaked-adds-restrictions-77397194
People have to start planning now and making necessary preparations. Also for those that have the monies to make preparations for themselves, do not forget about the poor and those that do not have the resources to protect themselves. Help those in need in whatever way you can. Be in food, medical supplies, herbs, supplements etc.
Thailand can only get out of this coming mess if the whole nation is united and cooperates with each other.
In the coming weeks, the situation in Thailand is expected to get worse and we can only pray that this prediction is wrong.