COVID-19 Updates: Thailand's Minister Of Public Health Contracts COVID-19 Despite Having been Vaccinated Six Times! BA.5 And BA.4 Ravaging Europe Mercilessly!
Thailand COVID-19 News
: Hilariously it was reported today in Thailand's media that the country's Minister for Public Health Anutin Charnvirakul, who is also the deputy Prime Minister tested positive for COVID-19 after a trip to France and Switzerland. He is reported to be only having muscular pains and a sore throat. The amusing aspects of his infection is that he has to date received six COVID-19 vaccine shots including two Sinovac COVID-19 vaccines, two AstraZeneca vaccines and two Pfizer mRNA vaccines shots most recently. He has been advised by local Thai 'experts' to go into isolation for a week!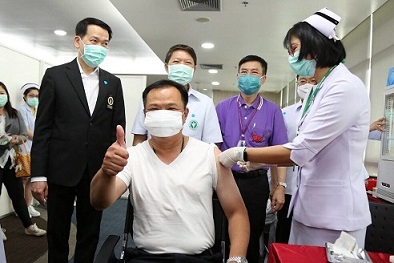 Thailand Minister For Public Health (Note: He has no training in medicine nor in any biological sciences and comes from the construction industry!), receiving his COVID-19 vaccine. he has to date received 6 COVID-19 vaccine shots! (Pic approved for public use by Thai PRD Dept).
Thailand in last few weeks have been reporting phenomenally low COVID-19 infections and COVID-19 deaths despite the situation in various private hospitals showing a different scenario! In one Northern province it was reported by locals that the number of schoolchildren contracting the disease in a single day based on rapid antigen test kits results outnumbered the reported country's total for that day!
But people should not fear much as certain Thai doctors are so 'smart' that they have found solutions to treat COVID-19 and Long COVID including stupidly promoting the use of fluvoxamine, a drug that is known to also cause arrhythmia…to infected patients whose hearts are already under attack by the virus and its proteins!
https://www.thailandmedical.news/news/most-who-have-been-exposed-to-the-proteins-of-the-sars-cov-2-virus-will-have-shortened-lifespans-stop-using-fluvoxamine-for-ba-2-infections
We at Thailand
Medical News
are praying for the minister and the country!
Europe

COVID-19 News
: Hospitalization rates are rising exponentially in Poland and the United Kingdom although most Europe medical experts and also health authorities are claiming that infections with the BA.4 and BA.5 variants are also mild!
Interestingly, the new BA.4 and BA.5 strains have more in common with the earlier, more dangerous Alpha and Delta variants because they may have evolved to refavour infection of lung cells, according to preliminary data from Kei Sato at the University of Tokyo and colleagues. Whereas, the highly transmissible original Omicron targeted upper respiratory tract tissue, which may be why the infections tend to be milder in most people.
https://www.biorxiv.org/content/10.1101/2022.05.26.493539v1
Poland is one of the few European countries with a large COVID-19 vaccinated and boosted population but yet the BA.5 variant which studies have already shown is able to evade both natural and vaccine induced immunity is affecting a large number of people there with a n increased risk of disease severity.

In the United Kingdom, it has been reported that the NHS and hospitals are nearly at a point of collapsing as not only are hospital overwhelmed but there is also an acute shortage of staff as many healthcare workers are also getting infected.
https://www.independent.co.uk/news/health/covid-cases-england-hospital-patients-b2110386.html
In Germany, infection rates and hospitalizations are also up.
https://www.dw.com/en/covid-numbers-are-rising-in-germany-but-who-cares/a-62123293
In fact, in the last 24 hours, certain German TV networks were reporting that the BA.5 is not only causing more reinfections in people who were previously infected in past waves but that the rates of disease severity seems to be much higher this time.
The similar situation is also being witnessed in France and many experts are predicting that this Summer wave is going to be more disastrous for the whole of Europe compared to that all previous COVID-19 surges as they expect the hospitalization and death rates to out beat all previous rounds.
It should also be noted that most mainstream media are not reporting on the actual COVID-19 situation not only in Europe but elsewhere plus many data on daily infections, hospitalizations and deaths are no longer reliable as many governments have devised strategies to conceal the actual daily data. Along with the fact that free COVID-19 testing facilities in many countries are no longer available and many of the current rapid antigen test kits are not reliable in testing for the new BA.4 and BA.5 variants and their emerging subvariants, we are but navigating the BA.4 and BA.5 wave in the dark.
For more on the latest
COVID-19 Updates
, keep on logging to Thailand
Medical News
.