BREAKING! Thailand News: Young Thai Student Protesters Being Sprayed With Tear Gas Imported From America During Biden's Tenure As Vice President
Thailand News
: Local Thai media are reporting that this evening thousands of unarmed Thai protesters who have been peacefully protesting against the Thai government near a shopping district in Bangkok are being sprayed upon with a solution of tear gas or unknown chemicals that has been imported from America and mixed with water and blue paint and God knows what other chemicals.
https://www.thairath.co.th/news/local/bangkok/1954676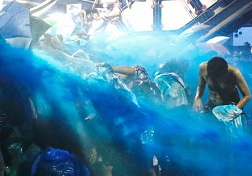 Credit: Thairath
The tear gas was apparently procured during the time of Obama and Biden administration by the then Thailand military government that had seized control of the country from a democratically elected government about 7 years ago according to the article by Thairath, one of Thailand's leading mainstream online media.
Most of the protesters at the scene today who were sprayed upon with the chemicals were basically young Thai students between the ages of 14 to 21.
Many are complaining of skin burns and blinded eyes and pains.
The Thai police was apparently spraying these chemicals on its own Thai citizens on the orders of the present government it was told.
It is despicable that America supports such acts against humans especially children and teenagers or promotes or sells such chemicals to other countries.
Many Thais are infuriated to learn that the chemicals were procured from America and are calling for boycott of all American products and for American citizens to leave the country.
The trucks for riot control were imported from South Korea at the cost of millions of dollars. The Thais have always been supporting stupid South Korean Boybands and Pop Groups and also South Korean movies and television series and also bland and tasteless South Korean garbage foods. Perhaps its times for Thais to also boycott all things South Korean.
Thailand Medical News does not support any political parties, the army, any protests or mobs or any forms of violence or does not condone any disrespect against the Royal Institution but at the same time we do not support the use of any chemicals on fellow humans especially children, teenagers and young adults and are deeply concerned about the growing situation in Thailand.
We are also deeply disappointed with America for selling and dealing in such chemicals and also with the Obama and Biden administration for selling such chemicals to be used against humans.
We wish that all sides in Thailand put a stop to the usage of violence and any chemicals and to solve issues peacefully especially during the current COVID-19 pandemic.
This story is developing and Thailand Medical News will be reporting from a medical perspective only.
For more
Thailand News
, keep on logging to Thailand Medical News