BREAKING! Sudden Outbreak Of New Viral Disease Called 'Tomato Flu' Or 'Tomato Fever' Affecting Young Children In Many States In India!
Indian health authorities and pediatric doctors are on high alert after a new mysterious viral disease called
tomato flu
or tomato fever broke out in various states in India and are affecting only young children.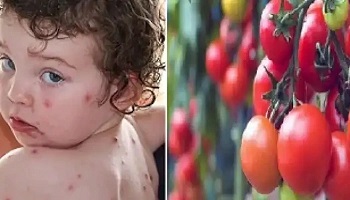 Caseloads are increasing exponentially since the first case was identified on the 6th of May 2022 in the state of Kerala in India.
As of now, the disease can be found in Kerala, (82 infants confirmed with the disease and another 176 under investigation), Tamil Nadu (27 infants confirmed and another 68 under investigation), Karnataka (21 infants confirmed and another 92 under investigation), Odisha (26 infants confirmed and another 143 under investigation.), Maharasthra (4 infants confirmed) and Delhi (3 infants confirmed).
Most of the cases that are confirmed have been diagnosed in children below 5 years. Almost all have been admitted to the local government hospitals. The number of children admitted to the private hospitals is not yet been included in the tally yet as it expected to be at least another two to three hundred more.
It is believed that perhaps more than a thousand cases are already in India now as health authorities first downplayed the seriousness of the disease coupled with the fact that many doctors do not know how to properly diagnose the disease of which much is not known about at the moment.
The viral disease is called
tomato flu
because it causes tomato-shaped blisters on the body. Most of the children diagnosed with tomato flu are experiencing fever, rashes, and skin irritation. Some children are also suffering from dehydration.
Typical symptoms of tomato flu include: rashes, skin irritation, tiredness, joint pain, high fever, body aches, discoloration of knees-hands-buttocks, abdominal cramps, nausea, vomiting, diarrhea, coughing, sneezing and runny nose.
The illness is rare in adults as they usually have immune systems strong enough to defend them from the virus but known cases in adults have been reported in the past.
Since
Tomato fever
is contagious, it is advisable to maintain a safe distance from the infected individual and prevent the scratching of blisters caused by the flu.
Currently emerging data is showing that beside spread via physical contact, the disease is also airborne.
Local Indian doctors are merely recommending proper rest, hygiene, and isolation for infected individuals. Also, they are suggesting that the infected individual's utensils, clothes, and other items must be adequately sanitized.
Not much is known about the viral pathogen causing the disease.
Dr Darshana Reddy, Consultant-Internal Medicine, Altius Hospital, Bangalore told Thailand
Medical News
, "It is not known if the fever is related to chikungunya or dengue that it mimicks in presentation."
Many local doctors and experts believe that
tomato flu
is a variation of the hand-foot-and-mouth disease (HFMD) and that the virus causing it most probably mutated extensively.
There are no known assays or diagnostics to identify the disease as of date. Cur rent diagnostics for HFND does not work on kids with this new viral disease.
It begins with mild fever, poor appetite, and often a sore throat. One or two days after the fever begins, painful sores develop in the mouth. They begin as small red spots that turn into blisters and often ulcers. The sores are usually located on the tongue, gums, and inside of the cheeks.
According to local doctors, there is no specific drug for Tomato Flu. However, the symptoms resolve on their own when proper care and support are given to the infected patients.
Many international experts are upset about the way that the Indian health authorties have managed the outbreak so far and their attempts to downplay and conceal the outbreak.
To date, cases have already spread to neighbouring countries like Pakistan (2 confirmed cases) , Sri Lanka (11 confirmed cases) and Bangladesh (1 confirmed case).
The WHO has only just been aware of the situation along with the US.CDC and also the ECDC.
The WHO has dispatched a team to India to explore more about the viral disease and also to properly identify the pathogen.
It is getting more and more interesting in recent months as we are witnessing the debut of various diseases and also new strains of pathogens and it is strongly believed with billions of people now having contracted the SARS-CoV-2 virus, majority have a changed immune landscape which can aid the evolution of various pathogens. Furthermore, with most humans already having a dysfunctional immune system or are having COVID-19 induced immunodeficiency, most will also be susceptible to all these emerging pathogens and diseases.
For more updates on
Tomato Flu
, keep on logging to Thailand
Medical News
.